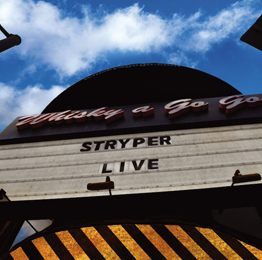 Release Date:
Thursday, October 9, 2014
Stryper an oldschool Christian Heavy Metal / Hard Rock band founded in Orange County, California in 1983. Stryper stands for "Salvation Through Redemption Yielding Peace, Encouragement and Righteousness". The Isaiah 53:5 under their logo is the Bible verse that states "by His stripes we are healed." Current members are: Michael Sweet: Lead vocals, guitar - Oz Fox: Vocals, guitars - Tim Gaines: Bass, vocals - Robert Sweet: drums.
Stryper made many albums this is their latest album "Live at the Wisky". With the original line up in a sold out show held in October 2014 in LA during a handful of shows in support of the release of the latest studio album "No More Hell To Pay", the album that marked Stryper's highest Billboard chart entry since the days of "To Hell With the Devil". First impression was a live CD is not the same as studio work but this album blows me away!  First track no not a classic song but "Legacy" from 2013's 'No More Hell To Pay". Second "Marching into Battle" of the same album. I must say that the record mixing is very good because the crowd is not always on the front. In some quite piece and at the end and sometimes in beginning. This is a great compilation of the years they made music and don't be missing in your Album collection. Just buy this record!