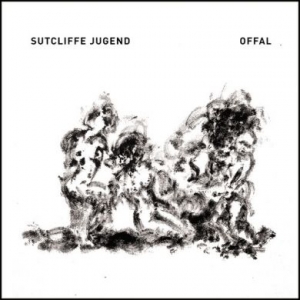 Let's start with an open question: is it possible to seek for, and find, some symbiosis of melodious beauty and chaotic harshness? Can Power-Electronics and semi-divinity result in acceptable structures? Let's find out…
I guess this duo might not necessarily need an extended introduction, but just for my own state of mind I'd like to give a brief biography. Sutcliffe Jügend were formed during the very early eighties (!) as a Power Electronics formation. They were quite active at that period, with some highly acclaimed releases via Come Organisation (the label run by Whitehouse's William Bennett), back then one of the most notorious labels within the genre. Then things went silent for about a decade, but Sutcliffe Jügend returned in 1994 with a very own-faced approach on the sounds of Noise and Industrial. Many new recordings were composed by Kevin Tomkins (former member of legendary act Whitehouse) and Paul Taylor, amongst which a handful via Cold Spring Records, the very same label that takes care of this new release too.
Offal is the name of the newest full length, which consists of four lengthy pieces (lasting in between twelve and sixteen minutes; total running time: fifty-five minutes). Their 'Transgressive Art' permanently evolved without betraying the roots, and that's not different with Offal. With opening construction Cleave, the listener immediately experiences the fantastic balance in between noise and melody, in between introversion and expression, in between elegance and chaos.
I think it's a rare quality to find such equilibria. But above all, it's exceptional to create such fabulous and highly attractive compositions. In sound-production, it's extremely raw and unpolished, even sadistically torturing, and because of the 'beauty' behind the 'melody' (believe me, I'm not kidding), it's even a masochistic pleasure to go through. And then, those harsh, wretched screams, they are adding another level of unhuman mercilessness. Blood-spitting and purely violent, those throat-eruptions are like a mostly painful orgasm – but hey, an orgasm remains an orgasm, all right?!
Cleave: magisterial, mystic, spiritual, even martial in its bombast; the most dark-ambiental one out of four…
Howl: a droning Death Industrial-injected travel, repetitive but permanently arousing
Slice: intense and even dreamlike-mesmerizing, defining the 'beauty' of Noise / Power-Electronics
Crawl: the most experimental and droning part of the journey, including an unworldly grand-finale
So, the answer on the questions above is: yes, Sutcliffe Jügend can. Sutcliffe Jügend are able to create something unlimited yet highly intelligent. Sutcliffe Jügend define my answer by means of Offal!