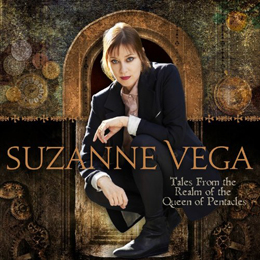 Album Title:
Tales From The Realm Of The Queen Of Pentacles
"Oo-ooh, Suzanne Vega! Gee...Suzanne Vega?"...believe it or not, but those were the words goin' through my mind when I first found out I had to review this artist's first studio album in 7 years! On the one side, I was kinda excited to be able to finally listen to a complete album by this creator of such really fine songs as "Marlene On The Wall" (off her debut album), "Luca" and "Tom's Diner" (which were both off her second album, 1987's Solitude Standing), but on the other hand...I'd never heard a complete album by her, you know...and would she still be able to cut it, after all those years?
I have to say, the lady's been relatively stingy in as far as her musical output is concerned. You see, since putting out her self-titled debut album in 1987, there have really only been 7 other studio albums: the aforementioned Solitude Standing, 1990's Days Of Open Hand, 1992's 99.9F°, 1996's Nine Objects Of Desire, 2001's Songs In Red And Grey, 2007's Beauty & Crime, and now the newest Tales From The Realm Of The Queen Of Pentacles. But those are not the only albums that were released. In 2010 she released the 2 first albums in the Close Up series, 4 separate albums (Volume 3 being released in July 2011 and Volume 4 in Sept. 2012) for which she re-recorded several (60 songs representing about 3 quarters of her lifetime musical output) of her older songs (the latter of those acoustic "compilations" however included 3 completely new songs, in order to regain some control over that material. An album entitled Solitude Standing Live At The Barbican: 25th Anniversary Concert, 16th October 2012, released in 2013, became Suzanne's very first live album. In between, she's not really been idle, but it would take me too long to list all of her contributions to other artists, or indeed to list all the special events in which she was involved. For those among you who're interested, I can really only recommend to look up the (English) page on her at Wikipedia.
Originally putting ideas for new songs on her iPhone, Vega and longtime collaborator/ producer (and guitarist) Gerry Leonard fleshed out the songs on the new album, and were already introduced several of 'em to live audiences during Vega's promotional touring of the Close Up albums, before they were eventually recorded in a live-studio setting with a number of guests helping out. Too many to mention 'em all, but among them bassist Tony Levin (King Crimson) is heard on 2 songs, and The Smichhov Chamber Orchestra on 3 (those two not counting, nor Vega's longtime collaborator/ producer Gerry Leonard, there's still 10 other people contributing). Now, if that gives you the idea that the music must be pretty "full", think again! In fact, overall the music (indifferent of whether they're acoustic or include the use of electric guitar) is relatively simple...yet in Vega's usual way, also very effective...and still very "full" anyway! Vocally, she still employs that languid semi-whispered style which was already used in her early days.
For an introduction to the new material, surf to Vega's own (www.) suzannevega.com, where you can watch videos of "Don't Uncork What You Can't Contain" (featuring Vega's very first use of samples from other artists, the "electronics" having been lent from 50 Cent's 2005 song "Candy Shop"), "I Never Wear White" and "Crack In The Wall" (alongside an interview) as performed for Billboard.com. For older material, check the "Video" section for clip samples (or check YouTube, eh?). Having gone through the full album seeral times, there's only one conclusion I can come to: Suzanne Vega may not put out albums that often, but what she releases are essential parts of the world of Pop Music! Yeah, you simply gótta love it!