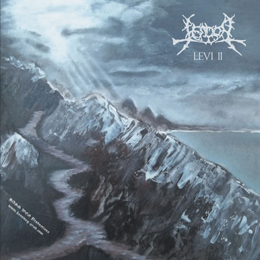 Terdor are a Dutch act, consisting of vocalist (and poet / lyricist) Lafawijn, and multi-instrumentalist, mixer, master, producer and music writer Elshschappij Tovenaere. Seen the title of this album, you might expect a first part as well (which actually was released in 2011), but Terdor debuted (at least when talking about full length studio material) in 2008 with Axis Panzerzug Anno November 1942 (and before there were a split with Gheestenland and an EP).
Anyway, this new stuff was recorded at the Elshsch Studio and mix & mastered by Elshschappij Tovenaere. Levi II consists of four tracks with a varying length: from four to nineteen minutes. The album opens with the title track (with lyrics in Dutch, and with its nineteen minutes the most lengthy creation on this album), which starts little progressive-atmospheric, with piano, acoustic avant-garde riffs and jazzy drums. But after almost two minutes, the track transforms into a faster yet melodic Black Metal piece with a timeless execution, a rough production and a slightly dissonant structuralisation. There is a certain experimental approach, with some eccentric melodies and contradictious riffing that might bring Rhymes Of Destruction to mind, and at the other the whole comes with a spirit à la the (Scandinavian) Second Wave current. The song also includes acoustic intermezzi (with acoustic guitars and piano), a funereally grim excerpt, thrashing outbursts etc. Consider it a mixture of the epic tradition by (early) Enslaved, technical experiment à la later Death, and a stripped-down, non-exaggerated interpretation of Blut Aus Nord's most experimental era. Second song, Dr. Chicogneau, is different, for it's a very slow, pounding piece of grimness and obscurity. It rather sounds like a mixture of (early) My Dying Bride, Asphyx, Thergothon and Hoth, yet still heavily injected by a bleak Black-mentality. End Her Life (4:30) is the most 'traditional'-sounding Black Metal piece with an approach very comparable to the one from Sweden or Norway, and final piece, called De Nachtwreker (also with lyrics in the band's mother tongue), is a collage of all this, and more: slowed-down heaviness versus merciless aggression, progressive melodies versus pounding riffing, and tradition versus (or better: hand-in-hand with) post-modernistic creativity.
Levi II needs several listens. It's a growing-into-album which you can't fully appreciate or recognize after one single try. Once you get through, however, it might be refreshing and surprising.