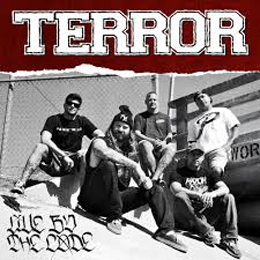 Terror, hailing from Los Angeles and Richmond, has been around for ten years now and can easily be considered as the hardest working band around: five studio albums, side projects such as Down To Nothing and Donnybrook and countless tours around the world later, they're ready to unleash a new masterpiece.
After the release of the excellent record Keepers Of The Faith, expectations were high.
Live By The Code continues where Keepers Of The Faith ended. The focus is on living by that code even more than ever before. It's about how to survive in a world where you get shit every single day and how to go against the grain. Just give songs such as "Cold Truth" and "Hard Lessons" a listen. The lyrics are even enforced by the heaviness of the instrumental support. This makes the music easily accessible for both a hardcore and metal audience. Songs such as "Invasion" are mostly riff-influenced, where as "Nothing In Your Head" is way heavier.
Terror proves to be the embodiment of hardcore. They ARE and breathe hardcore and represent what life really is about: having each other's backs and never giving in, no matter what the world throws at you. Brotherhood and respect are two values Terror really stands by on Live By The Code.