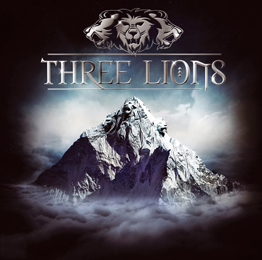 How the guys at Frontiers Records are able to start of projects or bands with members from different bands, and get them to bring us fantastic music most of the time is a riddle to me.
This new band/project Three Lions consists of Vinny Burns (Dare, Ten, Asia), on guitar, Greg Morgan (Dare, Ten) on drums and introduces Nigel Bailey on vocals and bass.
It's should be no small wonder then, that the music has some reminiscence with aforementioned bands, but it sure as hell is not a copy/paste of them.   For starters there's the vocal performance of Nigel Bailey.  Where has this guy been hiding as as far as I know I had never heard of him before, but can this guy sing !  Not only does he have a crystal clear voice, he also sings with his heart, by which I mean he's able to put some emotion in the songs with only his voice.  His pronunciation is also very good, you're able to hear each and every word he sings.
Despite featuring good vocals, with two seasoned musicians, it's no wonder the music itself is also very good.  And the songs are great as well. If this really is a new band, there's but one thing to say : I want more!