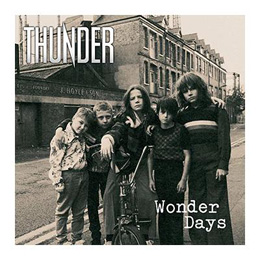 Release Date:
Monday, February 16, 2015
Thunder is one of these bands that seem to have been around since God knows when.  Despite existing for some 25 years, this is only their tenth studio album.  Of course there was a hiatus of some three years, since they split up in 2000, and reunited in 2002, and again disbanded in 2009, only to start playing together again in 2011.
So like I said before this is their tenth studio album, its predecessor 'Bang !' was released six years ago.  But this new album brings us back a Thunder at the peak of their career so to say.  It's a shame this band never made it bigger, besides in their homeland and also in Japan, because these guys deliver some of the best bluesy hard rock you can get.
This album kicks of with the title track 'Wonder Days', which is a fantastic song.  I've always liked the warm, powerful and bluesy voice of Danny Bowes, and once again he proves on this album why this band really deserves more attention.  But the guitar skills of Luke Morley should not be underestimated either.
To sum it up : fantastic album !  Highly recommended.