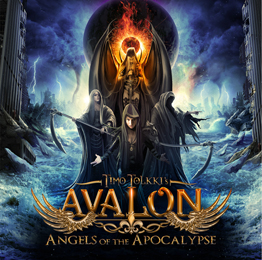 Formerly a member of Stratovarius, guitar wizard Timo Tollki with his new band/project Timo Tollki's Avalon are in a period a bit longer than one year, already at their second release.  Since the first album received good reviews, I was surprised if this second album was going to be another success, or instead couldn't stand up to it's expectations.
Somewhat copying the ideas of Tobias Sammet's Avantasia, Timo Tollki is also working with a lot of guest musicians, especially in the vocal department.  Already on his first release he had opted to work this way, and the shouters he recruited for this first album were well known names in our beloved music circles.  And on this second release the names he could tie are : Floor Jansen from Nightwish, Simone Simons from Epica, Fabio Lione from Rhapsody Of Fire, David DeFeis from Virgin Steels, Zachary Stevens (ex Savatage, Circle II Circle) Elize Ryd (Amaranthe) and finally someone I don't know, Caterina Nix, a Chilean lady who is working on her debut album, which is produced by Timo.
As musicians he's also enlisted the aid of two ex-bandmates from Stratovarius, Tuomo Lassila on drums, and Antti Ikonen on keyboards. And now for the verdict.  The album isn't too bad, but the first release was better.  Does this have something to do with the other vocalists, or is it the quality of the songs, I'll leave that up to you to decide.  I find the first half of the album OK, but the second half seems less interesting.  But despite these critics, the over all impression of the album is OK.  And Timo's guitar work is as always fantastic.