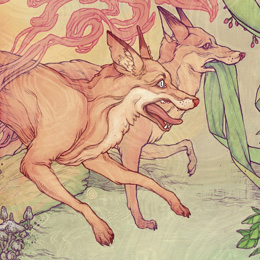 Release Date:
Friday, February 13, 2015
Despite the fact that this is already their fourth album, I had never heard of this band before.  They come from Madrid – Spain.  It seems they have a fan base in Spain, and they have played most, if not all of the major Spanish festivals.
Now as far as bands hailing from Spain are concerned, my knowledge is very limited, despite Baron Rojo, going back to the eighties, and Heroes Del Silencio, who came a few years later, I don't know of other Spanish bands.  Not that they were not there, or still are, but distribution of their records in our country is very sparse, even non-existing through the regular channels.
Now back to this album.  To start with it's a completely instrumental album, and on top of that it's a concept album, telling the story of two foxes trying to escape a burning forest.
The music is not your average day straight forward rock album, it's rather some sort of experimental rock.  When I first played it, I thought that it would be the only time, but after a few spins the album grew on me, and the reason is that the music on this album is very diverse, not only tempo wise, but also in musical styles.  I'd rather call this experimental rock.
To sum it up, a pleasant surprise.