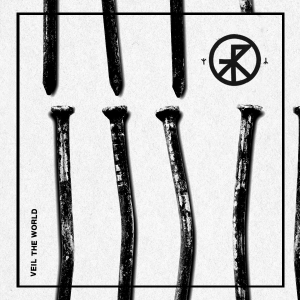 Trepaneringsritualen is quite a productive solo-outfit by Thomas M. Ekelund, previously active in the likes of Teeth, Nullvoid, Th. Tot or Dead Letters Spell Out Dead Words, which was formed in 2008. Last year he signed to U.K.-based Cold Spring Records' roster in order to release Perfection & Permanence, and now the label re-issues Veil The World, a recording from 2011 that has initially been released on cassette only in an extremely limited version. This new edition has been remastered (once again, in the vein of quite some Cold Spring rituals, at the famous Cage Studio), it comes in an edition of 1,000 copies, and includes a six-page booklet.
The project plays Götisk Dödsindustri, like Thomas loves to define the style of Trepaneringsritualen. Yet throughout the past decade (at last, almost a decade), each effort did evolve quite organically, maintaining a mutual spirit yet with increased heaviness and a constantly up-powering elaboration.
Veil The World, and then I am sort of returning to my statement in my former paragraph, sounds like a logical album within that permanently upgrading creativity of Trepaneringsritualen, i.e. bringing the asphyxiating integrity of the earliest efforts with the harshness that would characterize some of the latest albums.
Cherem (it's the longest piece on the album, by the way) opens with about two minutes of a minimally-sequenced one-wave soundscape, before getting joined, the unfriendly way, by mechanic-metallic and post-apocalyptic noises, additional screeching and distorted guitar molestation, and some creepy vocal samples. Next track is the title track, which combines repetitive electronic beats, mutilated vocals and elements from Ritual Noise. There are more tracks within this vein, and Lightbringer, for example, can be defined as a highlight within this specific current, despite the relative minimalism and repetitivity. The same goes for a piece like C'est Un Rêve, but this one comes with more levels, and I think it's quite a sexy aural composition! Creations like Drunk With Blood touch the sensitive (or actually, it is rather 'senseless') borders with Harsh Electronic Noise, Invocation then again is rather trancelike and tribal-ritualistic (yet without leaving the path of Noise Industrial), and so forth…