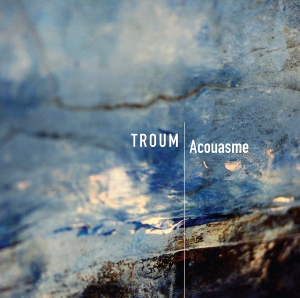 Release Date:
Thursday, January 7, 2016
When Maëror Tri decided to split up almost two decades ago (and still my tears haven't completely gone yet), two of the members, Stefan and Martin (aka Baraka[H] and Glit[s]ch), decided to continue their collaboration under the moniker of Troum. 'troum' is an old-Germanic word for 'dream' (Traum in modern German), and they did choose this moniker specifically to focus on the experiences of the past, knowing that there will never be a return. Our dreams get 'seen as a central manifestation of the unconscious' in order to define this duo's aim 'to lead the listener into a hypnotizing dream-state of mind, a pre-verbal and primal consciousness sphere'.
For almost two decades, Troum are extremely productive, creating compositions that might act like an aural possibility to enter the realms of the unconsciousness. And with Acouasme, the duo gets even deeper, delving into the most hidden and abyssal regions of the mind by creating another fabulous sonic journey, divided into six parts (total running time: sixty seven minutes).
Acouasme once again lacks of computer-led sound sequences or samples, which gives their Drone / Ambient material a much more natural and inner-dimensional atmosphere. In general this stuff is quite nihilistic in execution, based on long-stretched and primal waves of noise. All compositions, no matter if they're lengthy or extremely lengthy, stand for floating, dreamlike and mysterious / mystic soundscapes that actually carry a certain dimension of transcendental hypnosis and ritual escapism. However, the minimalism that characterises this album might be too 'empty' from time to time. Instead of ecstaticism it might lead to oblivion, and it does not correspond to the aforementioned states of dreamlike knowledge. Especially the first pieces seem to lack of invention and creativity – not literally, but I'm referring to the absence of Troum's inherent magic, and the presence of explicit-minimal activities. But then again, it sort of introduces the album's thematic concept, focusing on an 'alien' and psychiatric feeling. Troum's craftsmanship comes to a peak as from Outer Brain Outsourcing, a song being a mesmerizing and ethereal ritual that delves into the most subconscious levels of our being. It's like a trancelike and natural way to get stoned for sure! Would 'ambient tribalism' be an appropriate description?... And with the very lengthy piece Signe Du Miroir (which clocks eighteen minutes), this album comes to its peak, incorporating haunting synth-sounding lines (however, there are no keyboards involved, despite the sound-like thoughts one might have) and ritual / martial percussions, and flirting with the eeriest edges of Death / Post-Industrial.