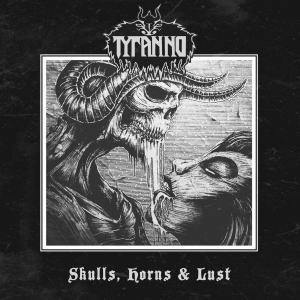 Tyranno hail from Rio de Janeiro, BraZZil, and were formed in 2014. They recorded and released some EP's / singles (one of them released as split with country-fellowmen Nightmare), and in 2017 the trio - original members Bitch Hünter (drums, production, mix, mastering, artwork) and Dyd Bastard (vocals and guitars) [both of them are known as well from e.g. Cult Of Horror, Into The Cave or ex-Silentio Mortis], and new (female) bass player Michelle Diabolic - had their first full length finished. That album, called Skulls, Horns & Lust, was released independently via the contemporary digital sources, and in physical shape via Vënënö Sönörö. However, seen the 'success' of the release, and to give it a more professional distribution, PRC Music decided to have this stuff re-released on CD (and digitally).
Skulls, Horns & Lust lasts for thirty-five minutes (ten titles) and brings that great spikes 'n' leather stuff, booze 'n' babes-laden Thrash'n'Roll with a sublime Teutonic attitude. Yeah, this is the kind of Black Metal that copulates intensively with the Black Metal scene from the pre-history. Hellhammer / Celtic Frost, Venom, Root, Usurper, Bulldozer, Goatlord, that kind of aural terror, you know. Especially the Tom Warrior bands have been a huge source of inspiration for this Brazilian trio, and the main influences of both Hellhammer and very early Celtic Frost are like the spine of Skulls, Horns & Lust especially.
The song writing and performance are incredibly good. Okay, it sounds like a tribute especially, and Tyranno are not original at all (in case that might matter; I do not care, so why would you anyway). But paying tribute to your heroes can go terribly wrong, or turn out rather well. In this case it's the latter that counts. The trio wrote their stuff, and did perform it, with eye for details. It's more than 'covering' a legendary cult-band (many others tried, and did not succeed). All compositions sound very professional, and are performed by, clearly, crafted musicians that not only know how to handle their instruments, yet that experience a joy to perform this kind of material. Therefor, the result is timeless, not old-fashioned (despite the old school attitude).
Besides, Tyranno add some 'own' specificities. What about the gloomy keyboards in The Great Homage Night (and hey, what about the church bells?) or I'm Obsessed, for example. Or listen to the several grandiose, ear-piercing solos all over the album. And then you have tracks like Fall Of The Black Messiah, an instrumental intermezzo with synths and acoustic strings, adding a moment of tranquillity without fading away in pathetic or grotesque melodrama. Or the addition of female voices and chants in a piece like Burned Alive. All details that might not seem that world-shaking, but which are important enough to give that distinctive approach.
But the most impressing thing must be the sound quality. The production is above expectation. Everything sounds 'full' and 'rich', yet it does not lack 'balls'. The result is not of the surgically-clean kind, yet it maintains a certain roughness, which is needed, evidently. The mix of all instruments comes in a great equilibrium, with a fine balance for all ingredients (guitars, bass, drums and vocals, + additional instruments) involved.
All hail the circle of the Tyran[ts]no…