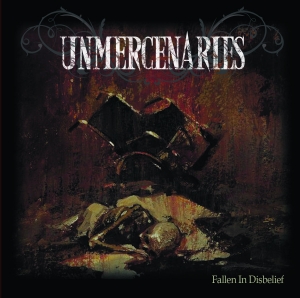 Release Date:
Thursday, December 25, 2014
Unmercenaries are a collaborative of two members from Who Dies In Siberian Slush (amongst others, but I do refer to this one specifically, for I recently wrote a review for their split with My Shameful; see update December 24th 2015), and a member from My Shameful (amongst others, but I do refer to this one specifically, for I recently wrote a review for their split with Who Dies In Siberian Slush; see update December 24th 2015). Indeed, Russian guys Gungrind (bass guitars and electric guitars) and E.S. (vocals), and German drummer Jürgen Fröhling are no strangers to each other anymore, but Unmercenaries is their first actual collaboration. Everything was written by Gungrind, and recorded at the Primordial Studio for what concerns the Russian part, and at the Germany-based SG Records Studio for the drum parts.
Fallen In Disbelief is the project's first (and till now the sole) effort, consisting of four lengthy compositions. It was released in an edition of 500 copies in a co-operation in between two excellent Russian labels, Frozen Light and MFL aka Moscow Funeral League.
The album stands for a rather primal and basic form of Funeral Doom / Doom-Death, including quite some keyboard lines. But the other elements are quite 'evident': slowly pounding rhythms, esoteric melodies, grimy grunts and a couple of whispers (though, there are some scarifying blackened screams involved as well), traditional breaks (say hello to the early nineties), injections with acoustic guitars and piano, and so on. This does not seem to be so attractive, this description, I knows, but guess what… Since the result is simply fabulous, I feel like obliged to go deeper into the essence, and that's quite impressive. Unmercenaries indeed aren't the most renewing or original formation ever, but what they create is more than one might expect. Imagine the scenes à la the nineties from Finland, Sweden, the U.K., Holland, Russia, Belgium, Greece, Germany, Italy and, for my concern, Brunei and Guam, in order to have a certain idea of this project's approach. Keyboard lines and tremolo leads are quite important, and so are the vocal parts (no matter if it deals with the -leading- grunts or the present screams), the massive, hammering rhythm section, and the hypnotic leads. But do not ignore that grandiose sound quality either, for this one is just majestic, at least for this kind of Sonic Satisfaction.
Limited release, only a few tens of copies still available, so: hurry up! Now! …or never…