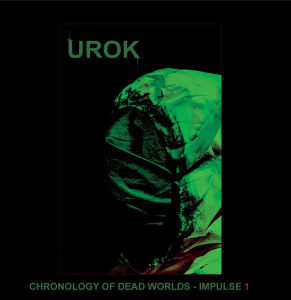 Album Title:
Chronology Of Dead Worlds - Impulse 1
I did several reviews for material released on Poland-based label Depressive Black Ambient Records and I will do more in the future. This has to do with two things: the unusual yet splendid collection of projects on this label's roster at the one hand (about all of them are at least as frenzy-minded as the owner of this family, Mister Chris) and the imminent philosophy behind it: not searching for anything at all. They don't look for any reason whatsoever to breathe; only chemicals and anesthesia in a disgusting and perverted way are the reason to continue. Artificial poisoned and stolen food. With a smile, we eat it every day. Mutilative, masochistically mutilative and depressing, drowning in melancholia, affliction, abhorrence. Nothing less, everything more…
…which easily brings me to the spine, the broken, pulverized spine of this review: Chronology Of Dead Worlds - Impulse 1 by the Serbian noise-wizard Urok. The material was actually recorded live in Spring 2019 (May 25th, for the purists amongst us) in Belgrade at the Elektropionir happening, registered by Jelena Petrović and Igor Stanić (editing and production done by the guy as well), and released via Grom Records on tape. And now we do have a limited CD-edition + DVD (100 copies, if I am not mistaken), as well as the downloadable option.
So, being 'just a messenger and implementer of the original echoes from the unknown distances', Urok try to translate the magnificence and power of the Universe through translating the cosmic sounds into hypothetic formats of sonic expression. Urok create and interpret waves of noise, aural motives and trans-dimensional recordings, being a witness as well as a messenger of what surrounds our futile existence. Unphysical and astral powers get captured and morphed into listenable explorations, and that's exactly what this album stands for.
This abstract, somewhat surreal description can be translated as well as: Urok perform a cosmic, sci-fi-inspired form of eerie Electronic / Ambient Music with a psychedelic twist. It is a fifty-five-minute-long journey through dimensions of Drone, Krautrock, Cinematic Ambient, Death Industrial, Funeral Doom, Dark Ambient, Power Electronics and much more, dreamy and intoxicating at the one hand, disturbing and dissonant at the other. Chronology Of Death Worlds – Impulse 1 is one monumental journey, divided into different chapters, which do build up, over and over again, before fading away in a touchable sense of aural adventure. It starts, for example, in a very oppressive way, with oppressive, haunting, eldritch waves of sound, painted in cosmic colors, astral shades of black and un-white. It dooms as from the very beginning, almost fragile yet profoundly bleak in nature. After almost three minutes, the unfathomable abyss exhales a suffocating smother, audibly translated through somewhat martial-sounding percussions and ritualistic drum-patterns. At five minutes, things turn into fragile, mesmerizing proportions once more, first like an empty-oceanic dreamworld, evolving into floating ambience through well-balanced layers of synth-manipulation, getting canalized in a world of mystique and wonder. Hypnotic strings join, samples and percussions join, and the experience shifts and moves.
It would be superfluous and superficial to continue analyzing every individual sequence on this live recorded album. The former paragraph shows a first glimpse of what this psychotropic travel might reveal. As said, there is a permanent evolution, increasing and expanding, then again fading into the unphysical veil of nothingness and spiritualism. The gloomy nature of this creation goes well with moods of transcendence and (self) hypnosis, sometimes even levitative and meditative in essence, then again fading towards atmospheres of horrific grandeur. Electric strings, eerie samples, low-tuned drones, ambient passages, opaque drum-work, inexorable overwhelming rhythms, wretched voices and mechanical injections, continuously interplaying, permanently twisting and teasing the mind, defying the listener's fantasy, provoking the Inner Eye…
The superior freedom of sounds gives us absolute power of expression and shows us unlimited dimensions we can walk to. It's like (part of) the keynote to explain, and to comprehend, Urok's message to explain the absolute limitlessness of what our Cosmos creates sonically. Sound trespasses out worldly existence, and Urok translate this message through aural experimentation, here gathered as Chronology Of Death Worlds – Impulse 1. The whole recording asks for awe and apprehension at the same time, with moments quite tranquil, then again fierce and dreadful. That intimidating fragment as from about half of the album, for example… Nope, I wasn't about to dissect any individual excerpt anymore. Just jump weightlessly and naked into the sounds of the universe and float on the cosmic waves…
https://www.depressiveblackambient.pl/p/dba-black-010-urok-chronology-of-dead.html
https://depressiveblackambient.bandcamp.com/album/dba-black-010-urok-chronology-of-dead-worlds-impulse-1-dvd-video-concert-2020