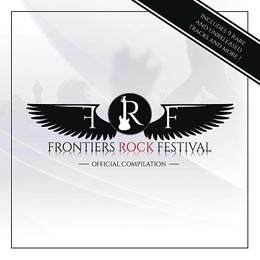 Album Title:
Frontiers Rock Festival – The Compilation
This Frontiers Compilation offers you a choice of 14 tracks from different Frontiers signed bands of projects.  Among them the fantastic and already well known W.E.T., but also I.R.S., and some as yet undiscovered gems like Moon Land. If you want to have a sample of the quality bands that Frontiers Records have to offer – as if you didn't know that already – then you should at least by this compilation, discover some of their bands, and subsequently buy some of the full albums, of which you were given a taste.
Since it's a compilation album, I give it no score.