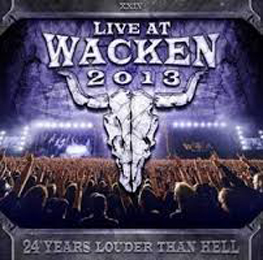 Album Title:
Live At Wacken 2013 – 24 years louder than hell
Release Date:
Sunday, September 21, 2014
With so many bands performing during the 4 day event, Wacken probably is one of the best known, and also one of the biggest an oldest metal festivals in the world, welcoming some 75.000 festival gangers during 2013's edition.
And each year a DVD is released with some highlights of last years edition.  So here's the 2013 release, which comes as a triple DVD (which I didn't have the chance to view, let alone review) and a double CD. So let's stick to the CD instead.  It gives you a good overview of the different bands that appeared on stage that year, starting with Sabaton and Trivium, and then moving to some harder/faster work by Anthrax and Annihilator, culminating in Agnostic Front and Devildriver to end with Soilwork.  After that comes a bunch of 'softer' bands, although that is not the correct wording, I guess the word 'older' bands would be more correct with among others Ugly Kid Yoe ending with Lingua Mortis Orchestra featuring Rage.  Finally the first CD ends with Nightwish.
The second CD features a whole lot of bands I only know by name, but never really listened to, except Sonata Arctica and a few others.  Personally I find the first CD good, and the second not that good. But it must be said the quality of the recordings is astoundingly good, even more so if you compare this to Motörhead's last live CD 'Aftershock', which came out on the same label.  There are 16 songs on each CD, so I guess you're better of buying the triple CD, as you get no fewer than 103 songs divided over 3 discs, and also get to sea/hear a few groups that are not featured on the CD's.