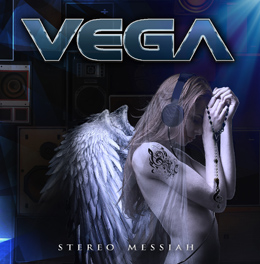 Release Date:
Thursday, September 25, 2014
British band Vega is back with their third album "Stereo Messiah"! Vega is a band formed in 2009 from the union of former KICK vocalist Nick Workman with the successful and respected song writing partnership of Tom and James Martin! Vega is a melodic hard rock band. And yes I can say: for me the album delivers a big 10!
The band serves up melodic rock with a modern twist. There are 12 tracks on the album and some songs shine like diamonds in my ear. The killer tracks "Wherever we are", "Neon Heart", "With Both Hands", " The Wild, The Weird, The Wonderful" are an example of magnificent melodic rock anthems. I can say it was very difficult to stay away from the "repeat" button.
There are also other memorable tracks here, like 10x Bigger than love, written by Joe Elliot of Def Leppard!! The version here doesn't add much to the original! "All Or Nothing" is one of the band's best songs!
The final track "Tears Never Dry" is a ballad but it's not a highlight on the album, it can captivate me, it bores me! But ok the album deserves a fine entry, if you haven't been introduced to Vega this album is a good reason to discover the band!