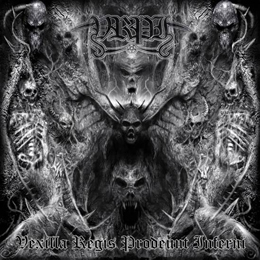 Album Title:
Vexilla Regis Prodeunt Inferi
The nameless debut full length by Mexico's Vexilla Regis Prodeunt Inferi was initially released on CD in August 2012 via Onslaught Records. Orgasmatron Records took care of the release on tape, and the vinyl edition (12"EP) saw the light in 2013 via Abyssmo Productions. And now there's a re-issue once again, this time via mighty Memento Mori, and with inclusion of the untitled 2011-demo as bonus.
Of course it has to do with the professionalism and experience by the members – they have been in notorious acts like Necroccultus, Supplicium, Leper Messiah or Ominous Crucifix a.o. – but for a debut this truly is a monster in the best North-American vein. Vexilla Regis Prodeunt Inferi's Satanic Death Metal is of the technical, bestial and rotten kind, taking influences from the likes of Vital Remains, Deicide, Abysmal Dawn, Suffocation and Angelcorpse, but without just shamelessly copying this scene. Not that this band sounds renewing or original, for they do not, but they create their own morbid interpretation of their northern neighbors with at least as much persuasion and craftsmanship. Besides, and just like material from the bands I just mention, this album explores the most sinister and evil corners of the scene, which gets translated in the blasphemous lyrics, ominous sound and grimly executed song structures.
Personally I would have liked little more variation in between the songs, for sometimes they might sound little too alike (tempo, composition), but there's no reason to not like this stuff in case you do adore at least one of the bands I mentioned. Besides, the sound is massive (like it needs to be in such an intensive recording's case), and you might appreciate the addition of the 2011's demonstrational recording (which has been re-issued before as well on vinyl, by the way). All right, the tracks from that promotional effort have been put on the final album too, and the production is less impressive than the full length, but it's the idea, the intention that counts.