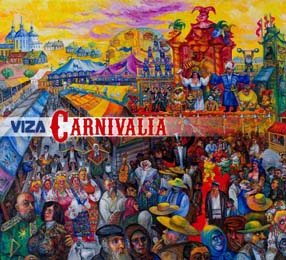 Release Date:
Friday, November 23, 2012
At first I thought I was listening to a clone of System Of A Down, but I had to rethink my first opinion afterwards.  Viza is much more than a simple clone of aforementioned band.   While with System Of A Down I find it hard to listen to a complete album, this was not the case with Viza.
This might have to do with the fact that Viza clearly has much more influences than SOAD.  I hear folk, flamenco, rock, latino music, Middle Eastern influences… This makes this album a very diverse one.  I must admit that after the first listening I was a bit disappointed, but after a few spins this album grew on me, and the more I played it, the better I liked it.
The vocals are very Serj Tankian-ish, so if you're a System Of A Down fan, and want to try something akin, but not entirely akin, you should definitely give this a try.