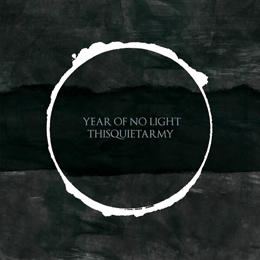 Album Title:
Year Of No Light / Thisquietarmy
ConSouling Sounds are a pretty young Post / Doom / Drone label from Belgium with more than just a handful of great releases in the past.
They are not that 'big', so one cannot expect a new release each week (unfortunately); but I do prefer a limited but well-thought emission of material, so you won't hear me bitching; either about the (i-pooled) package we did receive recently, even though much of this stuff was released (or meant to be released) several months ago.
_________________________________
The untitled split-album by Year Of No Light and thisquietarmy was originally released as vinyl edition through Destructure Records, and for the first time it will be available on CD. Eternal gratitude to ConSouling Sounds!
As a matter of fact, this record isn't just a split, yet a project-album. Both bands contribute with an own song, and two tracks are collaborations with both acts involved. Both bands aren't alike when it comes to their creations, and at the same time very comparable as well. So can you imagine what the result will be of an aural co-operation?
The sextet Year Of No Light hails from France (Bordeaux) and is very productive since their formation about a decade ago, if it were for their splits only. Earlier this year, for example, they had two new splits released, amongst whom one with Altar Of Plagues! Anyway, they open this album with Vous Êtes Un Nada Mort Marchant Autour Du Visible, (12:29 minutes). This song might be one of the most atmospheric tracks ever done by these Frenchmen, nicely balancing in between industrialised Post-Sludge, ultra-heavy Doom and melodic-ambient Drone, and less Post-Rock oriented than before (yet still same-minded for sure). Next comes the first hymn both bands perform at, called Une Odeur Que Je Capte Quand Leurs Yeux Explosent (08:06). Une Odeur … is a magic soundscape with an industrial focus, full of both warm and cold spheres, shrouded in a veil of mysticism and remote dreamlands. The third song is a track from the Canadian act thisquietarmy 'only', a productive (five full lengths, plus several minis and splits) solo-project with Eric Quach. Aphorismes (twelve minutes of length) is a new song he wrote for this album exclusively, and it expresses Eric's characterising subtlety of Ambient and Atmosphere. For sure this semi-noisy creation is the most obscure track on the split. The album ends with another collaborative hymn, Langue De Feu (which lasts for about ten minutes). Langue De Feu is another demonstration of uniqueness and awe, marvel and devotion. Hypnotic, kaleidoscopic waves of aural ambience, a grabbing journey through worlds of mystery and transcendent beauty, subtly evolving into a unique grand finale; the epitome of one of the most interesting collaborations I've heard in years!
Sublime atmospheric and creative Dark Ambient / Post-Doom / Drone / Minimal Industrial / Noise for dark-minded / open-minded souls!