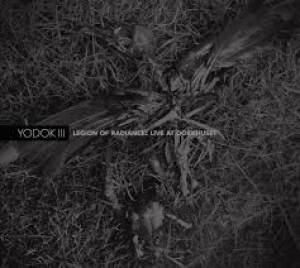 Album Title:
Legion Of Radiance: Live At Dokkhuset
Yodok III (quite a strange moniker indeed it is) is a collaboration of three notorious and well-known musicians that did work together under other pseudonyms or in other constellations too. Best known, at least in our countries, must be Dirk Serries, for whom I recently wrote two reviews for stuff released via Consouling Sounds: the albums Unseen Descending And Lamentations and Buoyant (the latter created with colleague Rutger Zuydervelt); reviews posted on July 8th 2015 and June 8th 2015 respectively. On this album, Dirk performs all guitar parts, and he took care of the mastering duties too. The drums have been performed by Norwegian colleague Tomas Järmyr (also known from Zu), who did the mix of this live recording, and the third person involved is Kristoffer Lo (amplified tuba and flugabone).
The trio created this one-piece improvised experienced on May 15th 2015 at Dokkhuset, Trondheim (Norway), supported under the wings of the New Wave Of Jazz current. The result lasts for more than one hour (almost seventy minutes, actually), by the way.
Legion Of Radiance, the sole 'song' on Legion Of Radiance: Live At Dokkhuset. After three minutes of unbearable silence, slowly, very slowly things seem to move, but only sporadically something's audible. Long-stretched moments of sonic nothingness, just far away at the background, waves of aural contribution appear, and disappear once again. At nine minutes, something starts to smoulder, but it takes another five minutes for the droning experiment climbs out of the bottomless pits of emptiness.
But when passing the twentieth minute or so, everything gets clearer, louder, deeper. Rumbling drum patterns, hypnotic guitar lines, and transcendental-ominous blowers… These are the ingredients for a concept that starts to overwhelm, to intrigue, to grab your attention step by step, minute after minute. Remarkable is the ease of the synergy filtered out of this three-piece co-operation, but then again, the trio did work together several times before. Yet still, that does not explain everything, for there's more to come. Clocking just over half an hour, everything turn more introvert once again, with that fabulous, even mystic tuba sound and some neo-shamanistic percussion patterns. Dreams of distant oceans, starlit skies and desolate deserts appear and reappear time after time (no, I did not smoke anything at all). Slowly a revival gets annunciated, and the last third of this lengthy journey kicks off with a long-stretched trance, causing meditative hypnosis and post-dimensional subconsciousness (no, really, I am sober right now!). The craftsmanship and professionality within the organic interplay of the three musicians involved reveals itself even stronger, more profound, than before. Slowly but resolute, Legion Of Radiance evolves towards a tantric climax, spiritual orgasm of sound, intimacy, relativity and fantasy! Only at the very end, after an explosive grand finale, the surmountable aspects of your inner eye turn back to reality, telling that this trip, causing a natural high (you see that didn't do anything), was really ravishing, in both integrity as well as in extraversion. I will put on this disc once again, I guess…