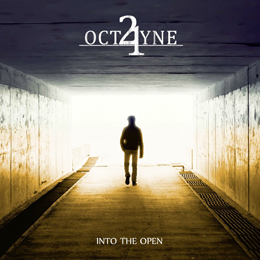 Line up:
- Hagen Grohe (vocals)
- Marco Wriedt (guitars)
- Andrew "Bullet" Lauer (bass)
- Alex Landenburg (drums)
'21 Octayne' is a new rock band from the South of Germany created by 'Marco Wreidt (Axxis) and 'Alex Landenburg', then 'Alex Landenburg' and 'Hagen Grohe' (The Joe Perry Project) joined the band. Every member of the band had their own input on the album and the result is very good!
They are men who have already earned their stripes in the music business and that results in a very good album. The album begins with a very strong song 'She's Killing Me' the first thing that hits you is the great and powerfull voice of 'Hagen Grohe' with a classic rocking sound. All the instruments are firmly in the mix and the excellent drumwork of 'Alex Landenburg' makes it complete.
'Dear Friend' starts of real calm but it explodes when the guitars kick in, and so it goes on varying with calm and heavy sections. What definetly strikes back here is the solid drum work. A very varied song!
'Turn The World' is a slightly softer song (sounds a lot like Journey) Great guitar solo. 'Don't Turn Away' starts off with a very funky bassline. 'My Teddy Bear' with threatening guitars and ditto vocals, again a terrific bass line and a melodic chorus.
'Into The Open' The title song is a ballad with the powerfull voice of 'Grohe' witch blends in perfectly. You don't have to wonder why 'Gotthard' was fiercely interested in the singer. 'Me Myself And I' is a song with Oriental guitar sounds in a crossover with Classic Rock.
'Your Life' Again a very solid song; it's difficult to point out the best song on the album because all the songs have something great in them. That does not say that it's a monotonous album, there are simply no weak songs on it.
They immediately set the tone for their debut album. You hear that every musician gives his own twist to the band but it all blends in well. They are one by one purebred musicians. A very solid album that does not sound stale even after ten years.
Tracklist:
01. She's Killing Me
02. Dear Friend
03. Turn The World
04. Don't Turn Away
05. My Teddy Bear
06. Into The Open
07. Me Myself And I
08. The Heart (Save Me)
09. Your Life
10. I Will Always Be Right There *
11. Leave My Head *
12. Come Alive *
* bonus tracks on Digipak