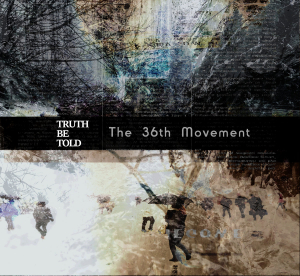 Release Date:
Sunday, November 10, 2019
Krister Bergman is quite active under his own name, as well as under monikers like Pulse Detonations (with Japanoise artist Hiroshi Hasegawa), V.O.E.R. (aka Vestige Of Earthly Remains), Demons That Drove (with finally, after years of ear-deafening silence, a fabulous yet monstrous release a couple of years ago via Basement Corner Emissions) or Secondstroke, amongst several others. A project of Krister which I didn't know is The 36th Movement, even though this one got already started during the first decade of this century. In the meantime I discovered a great split with French master Volhnn (Reason Art Records), but thanks to the young yet promising and strongly growing Polish label Depressive Black Ambient Records, also Truth Be Told might find its way to the audience.
Actually, this recording saw the light in 2009, originally released via Silent Novels (home to e.g. Catgirl, Kenji Siratori, Tina Torture or NRRY). But now the six initial compositions have been re-issued, with bonus material, via our Polish 'chemicals and anaesthesia' heroes from Depressive Black Ambient Records (a crew around Krzysztof Adelin Mrozek). And because there is no reason to inhale or exhale (!), we better hold our breath and listen to this re-release. Ten titles, clocking almost five quarters of an hour, are gathered with unholy pleasure, including stunning new artwork, and available the digital way, as well as on compact disc (jewel case).
The story starts with The Cycle Of The Cross, an enormously claustrophobic drone of industrialised bleakness, based on repetitive mechanicals, intoxicating chemicals (haha) and post-apocalyptic soundwaves with addition of distant tribal beats and ritualistic noises. And that is a good epitome of what's more to come.
This is a vast story of negative emotions, about hurt feelings, loss and grief, about isolationism and escapism, about inner quests and everlasting suffering too. More specific, Truth Be Told (and the truth can be harsh) is based on the most obnoxious and dismal areas of Black Ambient material, mercilessly penetrated by elements from Post-Industrial, Dark Drone, Ritual Noise and everything that fits within the most lurid dimensions of abrasive ambience. Every single, eh, 'song' (which way would you call these compositions) stands on its own, telling a proper story of emotions and introspection. But the whole, even with inclusion of the bonus tracks, eventually brings one mighty and coherent soundtrack for the doomed. Long-stretched yet hypnotising soundscapes, eerie samples, many layers of digital distortion and a permanent sonic confusion, and so on; in its deepest core, the canalisation of the (sad) Inner Eye though this aural expression results in a mesmerizing, throttling adventure. It's ultimately uncomfortable in nature yet, at the same time, it feels so trusted, so reliable too.
When lifting a tip of the veil about the bonus material, some additional strange elements might occur. Altered State Of Consciousness, for example, includes (acoustic) guitar work, lively played percussion and heavy sampling (the field recordings at the beginning are repeated continuously, yet in a stronger representation towards the end). Or what about Untitled 1, an extremely long piece (twenty-four minutes of duration) with an ultimately asphyxiating, barren, void and exanimated character, spatial for its infinite and unphysical character, abyssal for its decaying anguish. Untitled 2 has a very comparable atmosphere, yet totally differs in execution, with its martial structures and the performance that includes acoustic guitars (almost related to the Apocalyptic / Sad / Neo Folk tradition), drums (militant and tribalistic, also trespassing the comparison with Sad Folk Music) and synths.
Somehow memorable, this collection of scarifying and confronting Aural Art, sucking away life, is trying to steal your last gasp, painting a desolate landscape in colours deep and dark, artificially venomed with acid and a sulphuric breath… Damn, it clearly makes me poetic…
This is the end… 36 doors, 36 ways to exit. Don't fear.
(PS: more Depressive Black Ambient Records reviews will surely follow!)
https://www.depressiveblackambient.pl/p/the-36-movement_17.html
https://www.depressiveblackambient.pl/2019/11/dba-black-004-36-movement-truth-be-told_62.html
https://www.concreteweb.be/reviews/removed-life
https://www.concreteweb.be/reviews/antikythera
https://archive.org/details/The36thMovementtruthBeToldsilentnovelsrec009