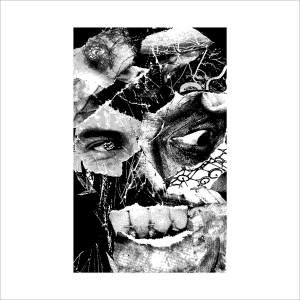 I know that Sentient Ruin Laboratories do not release catchy or poppy stuff, and once again this Californian label figuratively hits, and crushes, my (beautifully-shaped) skull with a rusty pickaxe. Resigner is the name of that rabid monster, that unleashed vehicle by one-man-army 8 Hour Animal.
About the project: I had not heard of them before, and I honestly do not have a clue whether Resigner is their debut or not (though, I think it is). I do not know who the sole entity behind it is (I guess a human being, but actually I am not sure about that either, except for the name J.). What I do know, is that this album is like a merciless punishment for one's eardrums, yet in a masochistic way, one might like his / her eardrums to be punished for sure…
Anyway, Resigner is released on tape (white slipcase and xeroxed j-card) (almost sold-out!) and 12" (black) vinyl (besides digitally) – both of them with download-card, in case of interest – and it consists of six ethereal elegies, anthemic hymns, or dreamlike lullabies… Not! It's a six-tracker, clocking more than fifty minutes, leaving no room to respire one single second. The material comes with frenzy artwork by P. Van Trigt (design + layout by MA), with mastering duties taken care of by Josh Bonati.
Resigner is an album that, generally seen, combines Power Electronics, Death Industrial and Harsh Noise, drenched in a blackened sauce – an extremely hot sauce it is – and it focuses on destruction, annihilation, intolerance and mayhem. Of course there is a huge dose of dissonance and chaos involved, yet it does not turn into irrelevant or pathetic absurdism. No, this harsh and discordant experience is well-structured, despite the overload on noisy and mechanical fierceness. And it might need some listens, but soon you might find out the ingenious song-writing (note: 'song-writing' works like a total contradiction, seen the muSICKal content, but it fits) and performance of master-brain J.
Frontman J. combines rough and intolerant electronic beats, shrieking and vitriolic string-rape, venom-spitting screams and industrialized synth manipulations, creating an asphyxiating atmosphere, a militant vacuum of sonic terror and aural illiberalism. There is an incredibly huge variation going on, which is nothing but fantastic, seen the audio-terror we're confronted with. Okay, one thing acts like a permanent identification: authoritative intensity. Do not expect one single moment of inner peace or tranquillity, for this album never gives in. Even doomed excerpts, like the opening sequences of Pushing Myself Down, do devastate, despite the sluggish execution.
A fine aspect is that this album subtly includes elements from different other yet mostly related genres too, such as Drone, Ambient, Post-Industrial, Sludge and Black Metal (indeed!). And even moments of ritual tribalism and EDM are somehow involved.
It would be ridiculous to analyse and dissect each single track any further – that would lead me too far – but let's conclude that Resigner is convincingly recommended  if you can appreciate everything in between Nihil Impvlse, Controlled Bleeding, Beyond Enclosure, Concrete Mascara, Skullflower, RxAxPxE, Kommando, you know; and even when you adore the likes of Archon Satani, Godflesh, :Wumpscut:, MZ.412, Burial Hex or, why not, Ministry and co., this 8 Hour Animal (debut?) album will be a sadistic pleasure to experience!
http://sentientruin.com/8-hour-animal
https://sentientruin.bandcamp.com/album/resigner