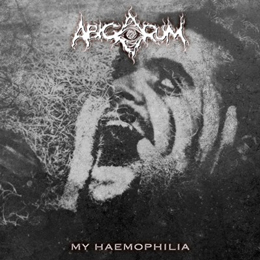 Release Date:
Sunday, December 29, 2013
Abigorum are the project by Satanath's owner Aleksey Korolyov. There was an untitled demo-MCD in 2012, totally instrumental, which was the first release on Aleksey's label as well, and now the guy had the time to record a new track, My Haemophilia, and have it released on his very own label in order to please or irritate (delete as appropriate) our presence. In my case: please or irritate. It deals with one song only, which lasts for three minutes, but it surely is a monument of a hymn! My Haemophilia brings a mixture of nasty, suffocating Funeral Doom and grim, ugly Black Metal, drenched in an underground atmosphere, and spiced with abyssal and hypnotic obscurity.
The sound might be little too anti-clean, and for this release consists of one (short) track only, I was not about to give a quotation. However, since our big chief forces us to give a final score (or he'll push me to review some Motown or Boogie albums…)…
Let's hope for a 'real' album asap!