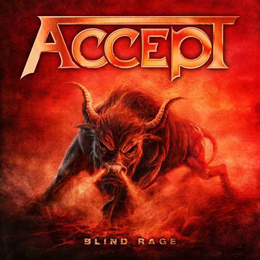 Wolf Hoffmann | Guitar
Peter Baltes | Bass
Mark Tornillo | Vocals
Herman Frank | Guitar
Stefan Schwarzmann | Drums
Fans of the band will know what to expect from 'Blind Rage' but for those of you who are still unfamiliar, I need only say two words 'HEAVY METAL'!
This Accept's 14th studio album and the third (in five years) to feature the excellent current line-up of' Wolf Hoffmann', 'Peter Baltes', 'Herman Frank', 'Steffan Schwarzmann' and 'Mark Tornillo'.  Out of the three Tornillo fronted albums, 'Blind Rage' brings back that classic Accept sound of old more than any but with a naturally 21st century feel.
Opening track, 'Stampede' is exactly that. A charging sonic attack of big riffs, big vocals and those classical flavoured 'Wolf Hoffman' solos, an obvious future show starter…one hopes?  'Dying Breed' is next up and pays homage in its lyrics to both influences and counterparts of days gone by.  Listen to the lyrics and see how many references you can spot?  'Dark Side Of My Heart' harks back to the 'Metal Heart' era with its 'Up To The Limit' similarities.
'Fall Of The Empire' slows it down a tad all brooding chugging riffs and the oh so familiar chanted background vocals.  'Trail Of Tears' ups the tempo again with a riff that cements the theory that Accept were indeed one major influence on the whole speed/thrash genre.  'Wanna Be Free' is the band looking at the state of affairs in the world whereas '200 Years' highlights what will inevitably happen if we don't take note? Both tracks naturally delivered in crunching metal fashion.
'Bloodbath Mastermind' will have you flooring the pedal in your car and banging your heads 'til your necks are breaking whilst you do so.   'The Curse' will take you back to their 'Russian Roulette' era which I personally hear referenced a lot on 'Blind Rage', which is no bad thing as I have a fondness for that  album, it was back in '86 on that tour that I first got my live Accept experience.  Closing track 'Final Journey' is another fast-paced delight which literally had me jumping for joy as 'Wolf Hoffmann 'has once again  incorporate a fabulous piece of classical music into his solo.  This time around it's Grieg's 'Morning Mood'…a welcome return 'Herr Hoffmann'.
'Blind Rage' is Accept doing what Accept do best, powerhouse riff-laden melodic heavy metal.  If it ain't broken…don't fix it.  Easily a contender for album of the year.