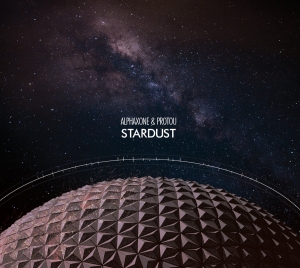 Release Date:
Tuesday, January 24, 2017
Float weightless in the void to the sound of exploding supernovas.
A solid thump closes the airclock behind you. Greeting your vision, a myriad of stars shining like beacons in black space. Rapid fingers across the uplink to the mothership 'feed my cat while I'm gone'.
The engine roars as the plasma ions accelerates. The mothership but a pixel left behind. Your ships humming soothes your excitement as you set out for new unexplored worlds.
Welcome to, again, a great experiment on the mighty Cryo Chamber, run by Atrium Carceri's Simon Heath. This time the result is a collaboration of two solo-artists who impressed me ultimately in 2016 with an album released via the very same label. I come back to them, briefly, in a minute. This co-operative work, called Stardust, was written and performed by both musicians / composers, and like about everything that gets released via Cryo Chamber, both artwork as well as the mastering duties are carefully done by label owner Simon.
Half of the duo concerned is Mehdi Saleh, an Iran-born guy who acts under the moniker Alphaxone. With this project, he co-operated on a split with Wolves And Horses, Xerxes The Dark (also from Iran), and Council Of Nine. With the latter, Alphaxone did a split in the past too via this label, and there were several albums released before via Cryo Chamber. The last one was Echoes From Outer Silence, released about one year ago. I wrote and published a review for that cinematic and droning Dark Ambient monument on March 20th 2016 – recommended! The other half is Ukrainian woman Sasha Cats, impressing me deeply with the collaboration with Dronny Darko, yet especially with the full length albums Lost Here and Khmaoch. The dreamy and floating Dark Ambient on that recording clearly came with a certain female touch – something 'emotive' that also characterizes female outfits like Artefactum. Both albums have been reviewed as well, and posted respectively on April 18th 2016 and April 19th 2017.
So, Sasha and Mehdi joined forces in order to create a truly spooky Ambient story, like some science fiction adventure, a survival in deep space. They accompany the listener through unexplored dimensions, far beneath, and beyond, the surface of safe and conversant certainty, by means of somewhat spacy-psychedelic, mesmerizing, floating, even dreamlike drone sequences and field recordings. The Dark Ambient created on Stardust is of that kind that veils everything in a mist of mysticism, mystery, and even magic.
Stardust is a piece that stands on its own. It sure combines the essence of both projects involved: the dreamlike atmospheres courtesy of ProtoU with the cinematic grandeur of Alphaxone. But it goes even further, deeper, this time. Each composition, all of them acting as excerpts of one large aural adventure, include elements, details, concepts and moments that sort of breath a uniqueness, exhaling a distinctive, even intelligent point of view listen. Chimes and bells, field recorded sounds, hidden yet prominent noises, additional sounds and majestic layers of synth are combined to create these hypnotic compositions. There is a permanent arousal, with uncountable elements that draw the listener's attention time after time. Sometimes you're like in a vast emptiness, wondering about the endlessness of the Great Nothing (like in Planemo Dreams, which is one of the absolute highlights on this album, to my trivial opinion); then again an asphyxiating discomfort overwhelms you, leaving you confused (listen, for example, to Observing Quasars or Sub Signal, and you'll understand). Other moments are like an exploration of both the Inner Eye and the outer space, reminding you of the glorious insignificance of man's existence (Versus), or focusing on a nihilistic beauty (Alignment a.o.). All this gets expressed through truly fine soundwaves of superb quality.
No matter if you're into Dark Ambient, repetitive minimalism, Dark Drone, Occult Industrial or Ritual Noise, this album must be checked out! Highly (high!) recommended!