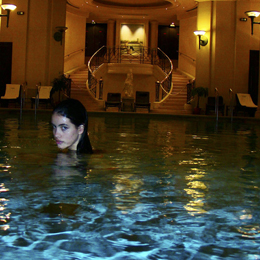 This New York City native began his career in music quite some time ago, bustin' his chops in bands of Joan Wasser, Black Beetle (which featured members of Jeff Buckley's band), and Michael Tighe's Post Punk Revival act The A.M....but at the moment he is certainly best known as the singer of duo Electronic Indie act Miike Snow and, more recently, through his collaboration with Mark Ronson (for the composition of the Royal Ballet Of London's Carbon Life – which also had the collaboration of Alison Moyet). But he's also written and produced material with other artists, including Carl Barat, DragonsOfZyth, Coco Sumner, and Bruno Mars (he co-wrote Mars' hit song "Grenade").
After a couple of years in more "conventional" Pop-geared music, Andrew became obsessed with the prestigious idea of recording an orchestral solo album. Eventually, he decided to take our a full month, and sat down to write the music necessary for the project, using a tiny hourglass and an out-of-date Apple Logic music program. To make his dream come to life, he could think only of Prague, where orchestral recordings (with the Symphony Orchestra) will not cost one an arm and a leg (and then some)...so off he went, and got faced with the fact that he didn't actually have music bar notations of the music, as well as a language barrier that had to be crossed. But eventually things were sorted out quite swiftly, and things went along quite smoothly.
The album is said to show a darker side of Wyatt than what we know of his previous musical outlets...but damn me if the music isn't beautiful and catchy nevertheless! In spite of being orchestral, the overall feel of the music is still Poppy rather than Neo-Classical, which is actually quite a feat. Of course, the songs are all done in Wyatt's "normal" voice...I mean, there's no "Classical" singing on the album, and the lyrics are all in English (the latter, upon reflection, is really no good reason to exclude a possible Classical connection, but hey...). Besides the 75-piece orchestra on instruments and Wyatt on vocals, the album also contains a couple of guest appearances by Anthony Rossomando (of The Libertines), Brad Truax (former Interpol touring bassist) and John Herndon (Tortoise), but that's all the info I was able to gather, and I am uncertain as to the detailed extend of their contributions. For your audio introduction in this truly different album, log onto (www.) andrewwyatt.net, where you'll find some video footage on the making of the album, the official music video clip for the track "...And Septimus" (the track which is the best contender for featuring Truax' contribution, actually), and a live rendition (with Wyatt's side-project Ingrid) o the track "Harlem Boyzz". Oh, and I found the man has a MySpace page (which of course I could not open due to their recent upgrade, and the network PC I use for my info searches always logging behind for a while), a link for which you'll find at Wyatt's far more detailed Wikipedia page (more detailed than this review, that is!).
For people who love truly good music, regardless of genres!