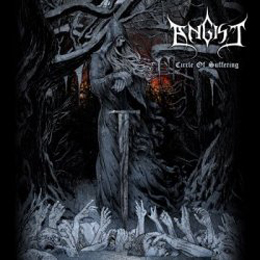 Iceland is not such a 'big' country when it comes to Extreme Metal. I do know some hands full of Black Metal acts from this beautiful island, but when it comes to death Metal, I am not that informed. Besides bands like Malignant Mist, Beneath, Narthraal or Ophidian I, I cannot sum up many interesting Death Metal bands that rule the current scene.
Anyway, Circle Of Suffering was originally self-released in 2011, and re-issued in 2013 on tape via Narrowards, though in an extremely limited edition. Our own Hammerheart Records are so kind to re-issue the stuff once again, this time on vinyl, with the band's 2010-promotional material as bonus.
Angist are one of the (many) Death Metal bands with a female grunter. And once again it is not a bad decision, for Edda indeed growls and screams like a bull on steroids being castrated without narcosis. Besides, she looks very nice (also like many of her female colleagues), but that is another story, rather irrelevant for the review of this LP. What Angist being is a technical, sometimes slightly progressive form of melodic Death Metal with many changes in tempo and melody. Except for the drum sound (sometimes this sound isn't but an artillery salvo recorded in a container???), the production is decent, for being unpolished yet heavy, but too much it is as if it were recorded two decades ago - purists of a modern sound might dislike it. I do not care, but be warned. Anyway, the song writing and performance are very satisfying. Don't expect to hear renewing elements of refreshment all over; this isn't but agreeable and fine-tuned, yet rather basic and traditional finesse. And the balance in between this elemental core from the earlier years, mixed with those elements that transport the songs into the twenty first century, is a surplus. There are no real stand-outs, but there surely is not one single track that sounds like a filler. Angist did make an excellent choice by releasing a limited number of songs with an interesting approach, rather than creating a lengthy full length with a handful of fillers.
For fans of: the USDM-scene (à la earlier Immolation, Suffocation or Death-anno-Human) for the faster and more energetic pieces, or Winter, Paradise Lost and My Dying Bride anno centuries ago for the slower and more melodious parts. And those who might remember Acrostichon: Angist is much comparable too (even Edda's voice is comparable to the one from Corinne, the (female) grunter of Acrostichon, I think).
…a band with a promising future…