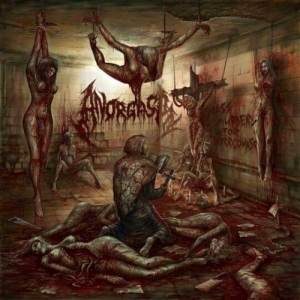 Album Title:
Mass Murder For Intercourse
I am glad that the Indonesian scene is on its revival. Actually, there were quite some fine underground bands during the earlier nineties in that era (Indonesia / Philippines / Singapore / Malaysia), but for one reason or another (hello mono-theistic religion?) those slowly faded away (except for the Singaporean one, I guess). However, lately I hear more and more about the rebirth of the scenes out there, going for both bands (of course the masterly involvement of Russia's Satanath Records strengthens this path; once again: all hail to Aleksey!), as well as labels (look out for an upcoming review on Ludah Productions, by the way, being the newest album by Rajam).
Another example is this one: Anorgasm, formed in 2009 and hailing from the western parts of the isle of Java. The band debuts with Mass Murder For Intercourse and this via one of the most brutal labels from Russia lately, Lord Of The Sick Recordings. The four piece created some gore stuff, with eight de-compositions that made it to the album, clocking just under half an hour. And seen the artwork, kindly provided by Alexandr Tartsus (he did create the visuals for tens of releases, like for bands such as Izmoroz', Votary, Sinister, Devouring Humanity, Vintergata and many more), this album surely deals with peace and happiness…
With Mass Murder For Intercourse, Anorgasm bring quite an old stylish form of vile and filthy Grindeath, mingling elements from the nineties' Tech-Death scene, the rawer side of universal Grindcore, and the low-tuned brutality of the Grind-injected (European) Old School Death Metal scene. It withholds every element that characterises / characterised the international scene for decades: ugly and deep-throated growls, low-tuned riffing, a harsh and beating rhythm section (without too much flavour – just violent and upper-cutting drum salvos and background / graveyard bass lines), and some buzzing, chainsaw-like guitar melodies. The sound quality too refers to the timelessness of this trend: being unpolished and raw, yet not under-produced in this case.
Mass Murder For Intercourse totally lacks of originality. I usually add that one does not need to be renewing, at least when the result is, seen from qualitative point of view listen, above 'average'. Well, in this band's case I think it's a difficult one. Anorgasm stick to the roots; they do not add their stuff with modern gimmicks, nor do they follow the latest trends. And the result is not that bad at all either. But I think that there's something missing, something that one needs in order to reach the highest regions of the scene. The tracks are just above average, but not one single one is, to my (subjective) opinion, memorable. So consider this as a warning: there's nothing wrong with this album, but I think there might be better alternatives. But why shouldn't you at least give it a try? Search for it on the net, and then you can decide whether it's interesting or not to enlarge your collection…