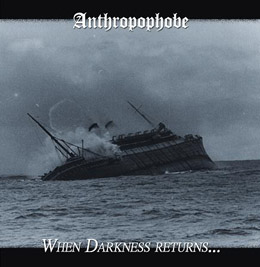 Album Title:
When Darkness Returns… / Déceptions Et Trahisons
On the recent update of October 12th 2014 you can find the review undersigned wrote for Anthropophobe's debut album Le Royaume Des Morts. A short biography about this project, the guy behind it (who also runs Soleil Blanc Productions), and the project Pagan Assault (a review on their 2014-album Requiem For Illusions will be written and posted soon too; on 09/09/14 Concreteweb updated the review for the Pagan Assault-debut Révolte Contre La Destinée) are described in that review, so I will kindly refer to that chronicle in case you might care.
This album is the third release on KFD's Soleil Blanc-label, and combines two recordings that had not been officially released before. The compilation starts with the When Darkness Returns… album. KFD originally started writing on this material in 1999, and he recorded it in between 2007 and 2011 at his home studio. Then it took two years to mix the material, but the result is worth perseverance. After a very short and untitled intro, Anthropophobe bring simplistic, minimal yet oh so misanthropic Black Metal in the vein of the glorious old days of Glory and Darkness. The melodic hymns are mainly fast, uncompromising, primal and morbid. But there is more, for this project includes slower passages to offer a nice contra-balance to the fierce aggression. Also the few keyboard additions (like in the darkthronish track Durch Den Dunklen Wald - 'through the dark woods') are great. On top of it comes the sound, based on a lo-fi production that truly suits these evil hymns. But it's not just those elements alone that make When Darkness Returns… so fabulous. The songs in general are just great, with grandiose melodies interacting with blasting assaults, with rhythms and riffs focusing on the purest essence of the war-like tradition of Black Metal, with combining the filthiest basics of the Old School and mostly obscure principles from KFD's own vision. And the (not that) fine-tuned execution of it witnesses of persuasion and conviction. Or in conclusion: truly a nice piece of primal Black Metal, and a must to be finally released officially!
Déceptions Et Trahisons ('disappointments and betrayals') was composed in between 2009 and 2012, but some of the lyrics are older. The stuff was mixed from 2011 to 2013 at the ClaustroStudio, and the seven tracks are very much in the same vein of the When Darkness Returns…-LP. This EP brings varying yet basically old styled Black Metal with a thrashing twist and hands full of slower passages. It does reek of the eighties and very, very early nineties, going for the song writing, performance as well as the sound. The latter is very awkward and extremely low-fidelity, but believe me if I say that it is the right decision. It does not sound 'hollow' or 'container-recorded' like some other 'primal-focused' releases we're crowded with lately. One track, by the way, does differ from what we're used of, i.e. the semi-progressive and little experimental Thrash-banger Phase Terminale ('terminal stage'). But generally seen, this material really typifies Anthropophobe's sound. And it's a sound I do like a lot…
For fans of: very old Bathory, Darkthrone, Sort Vokter, early Burzum, you know… Let's say that one must be glad (at least I am) to have this stuff (finally) released decently, and you might deserve to enjoy this misanthropic soundtrack…