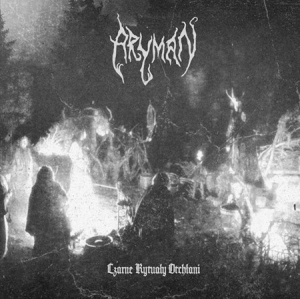 The Polish horde Aryman was formed at the very beginning of this century, but initially it was a band without name, without an aim (besides playing Black Metal!), without any official and professional recording or release. I guess it was in 2006 when main members Nefarius and Non Serviam decided to baptise their sonic brainchild as Aryman.
After some demos, a three-way split and some EP's, Aryman did release a first full length at the end of 2014 (Plugawe Dziedzictwo, via Hell Is Here Production and Zone Of Blasphemy), and now the band, with a renewed line-up, returns with the sophomore full length, Czarne Rytuały Otchłani. This second album was mainly recorded in the band's home town Bielsko, and partly in London. The material got mixed and mastered by no one else but Xaos Oblivion (think: Sytris, Abusiveness, Demonic Slaughter, his self-named solo-outfit, and many, many more), who did take care of the vocals on this album, by the way. Both other new warriors, joining guitar player Nefarius and drummer Non Serviam, are guitarist Tarrom and bass player Asmenoth (you might know him from e.g. Beleth; he did work with Aryman on former material too, so he's not completely new actually).
I have no idea what the lyrics are about, for they are completely in the band's mother tongue; and since my Polish is limited to a handful of not-that-sympathetic words… But let's imagine that the concept does not deal with love and piece (unless the merciless destruction of it). And I just feel like adding something about the physical release, the artwork: great! The black-white soberness of the whole booklet (eight-paged), the paper / carton used, the layout, even the logo; everything reeks of abyssal stench, a sulphuric odour escaping from the Netherworlds…
Czarne Rytuały Otchłani is a ten-titled album (total running time: forty-one minutes) which opens with short, non-saying intro. But then, as from W Grobowym Transie on, this quintet brings forth something purely Polish, being rhythmic, nasty, energetic and timeless Black Metal with a touch of 'industrial' or 'post-black' in one way or another. I think it might be the pulsating rhythms and the mechanical sound that sort of turn everything towards this specific approach. No, it's not that this material is filled with noisy sounds, factory-induced samples or a tech-mechanical production. But you'll surely hear that specific touch of Polish 'own-facing' that is distinctive from the more organic sound of neighbours like, let's say, Germany or Ukraine.
Anyway, Czarne Rytuały Otchłani is timeless, quite universal, and truly convincing, powerful and energetic. Even the sound quality is close to top-notch, being decent without dwelling into spheres of exaggeration. Maybe the bass parts might have been mixed little more to the foreground, and some less 'noise' could 'clear up' things. But that's nothing but a detail. Moreover, the few 'epic' elements (cf. the harmonious chants in the last piece) trespass the borders of 'just another blackened album', entering the world of ancient pride and heroism. In general, with an album like this one, Poland once again proves to house a fabulous (underground) scene. In this case, there's not a lot 'renewing' going on, nor is the result totally mind-blowing. But I dare not to deny the subtlety, the fine-tuned elegance provided by this band once again.