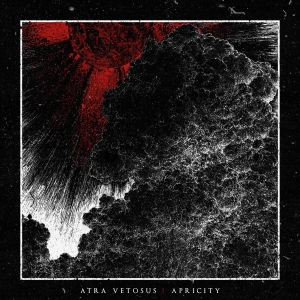 Release Date:
Monday, February 26, 2018
On March 27th 2018 I published a review for the re-mastered release of Atra Vetosus' debut album From The Eternal Night, which deserved some additional attention, at least in order to promote this band's newest full-length album, Apricity. As you can read in that review (and I am not going to repeat the introduction, nor anything about the band's history or discography this time – check it out here: www.concreteweb.be/reviews/atra-vetosus-1), there are quite some links with Immortal Frost Productions and this label's owner S., but once again: check out that review (or any other review on this Tasmanian band or this Belgian label) and just leave me alone…
Apricity, the second full length studio album, and the sixth Atra Vetosus release on Immortal Frost Productions (live / re-release / you know, included), was created within the very same line-up of all former material as from that debut album, being multi-instrumentalist, composer and mixer Josh Young, lyricist / screamer Josh Gee, bass player Matthew Lopez, drummer Josef Bound and guitar player Damon Parker. The album's mastering has been done by Owe Inborr, who did take care of the remastering duties on higher mentioned debut album as well. It got released in an edition of 1,500 copies on compact disc (2/3rd jewel case and 1/3rd digipack), and of course there's a digital download opportunity too, and also a vinyl release, consisting of two 12" LPs, limited to 300 copies. The latter also includes the material from 2016's Ius Vitae Necisque, by the way, so be conscious about this chance!
Apricity opens surprisingly enlightened. Upon a layer of sounds of nature (wind and that shit), multi-layered acoustic guitar riffs take over – different riff lines, being atmospheric, epic and melancholic at the same time. It's only a short matter of time, but it does set the tone for a new sonic adventure to come. A short matter, for after about one hundred seconds (if you do care about it, it's one hundred and two seconds), Atra Vetosus continue their travel through overlaying aspects of Atmospheric Black Metal, Melodic Black Metal, Traditional Black Metal, Epic Black Metal and Black Blacker Blackest Metal.
And here we are. Indeed this stuff goes on in the vein of all former material. There is a certain catchiness involved. This has to do with the quality of the sound, as well with the song writing and execution. When talking about that first aspect, the sound quality, one cannot deny the magnificent production. To my opinion, Black Metal needs some rawness, yet it depends on the specific sub-genre. In this band's case, everything might sound little cleaner than a Nordic-oriented or Thrash-edged formation. Actually, when playing this kind of melancho-melodious material, a noisy sound would do injustice to the result. At the other hand, a production too clinically polished would f*ck things up too – Black Metal is not Pop Music. Well, I think that Apricity smoothly balances in between the decent aspect of fine-tuned sounds at the one hand, and a somewhat raw completion, with a mixture that totally focuses on all different elements involved.
But there's more than 'sound' alone going on. Compared to the former stuff, this album can be considered a worthy, evolved successor of Ius Vitae Necisque (http://www.concreteweb.be/reviews/atra-vetosus-0) or any former effort. The better part consists of energetic, melodic, rhythmic and atmospheric Black Metal tradition – I'll explain all four of them. Energetic, for it's mainly fast, pushing-forward, that taking-no-prisoners attitude, you know. Not every part is fast; on the contrary, there is quite some variety (once again) in tempo, with slower pieces interacting with semi-blasting outbursts, and everything in between. The energy comes from all angles, but I think that the (wonderful) drum salvos do add that little more, that aspect of spectacular grotesquery. When talking about 'melody', well, I think it gets clear as soon as you're 'into' this band's Music. Whether they are fast and brutal, or rather integer and little slower, there's always that melodious execution. Quite a big deal is based on the guitar leads, with several tremolo riffs and guitars leads acting like the spine of the different tracks. But the bass guitars, rhythm guitars and keyboards too fortify that melodic aspect – supplementary rather than complementary, you see. Besides, the many acoustic or semi-acoustic intermezzos or intros (there are many of them, paying tribute to the overall atmosphere – see further) just define the ability of this band to combine harshness, elegance, melody and persuasion in a mostly natural flair. The rhythmic aspects have to do with the majestic subsidy of the rhythm section, which is, as sort of mentioned before, a notorious entity on its own. As a counterpart to the melodious presence, the rhythm section concurs and contributes to a rich fullness. Of course, the great mix / mastering makes the bass lines, rhythm guitars and synths like penetrating the audience's ear easily (which I cannot but adore). The support of the drum patterns is of undeniable importance to the heaviness, yet also the rhythm guitars and bass melodies, and the keyboards lines – and so are the choirs and cleaner vocal parts, evidently – strengthen the atmosphere of this album (and of this band's identity). Which brings me quite easily to that atmospheric aspect, which is above average. In some way, Atra Vetosus succeed to create something that combines aspects from several Black Metal trends – I did list up some sub-genres in the third paragraph. In an organic way, this band knows to combine aggression with divinity, harshness with integrity, and hatred with, yes, why not, a sacral identity.
Okay, there might be a certain catchiness going on. Atra Vetosus are not a Satanic Black Noise band, but in this case it does not bother me. On the contrary, these guys' ability to write and perform such intriguing ear candy is satisfying. It does not open the gates to another blackened dimension, nor does it redefine any known chamber within the castle of Obscure Aural Art – but it – no, whatever, this is another fine example of this band's writing and execution skills.
For the interested ones: there's an official (lyric) video too, which can be seen here: https://www.youtube.com/watch?v=ziuG816fp2A