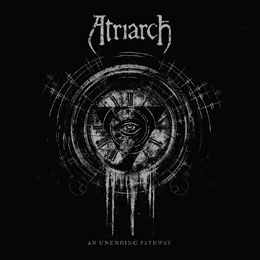 An Unending Pathway is the third album by Atriarch (they released stuff before via same-minded labels Seventh Rule and Profound Lore), and it clocks forty minutes. This album, a seven-tracker, was produced by one of the greatest names within the scene, Billy Anderson. The quartet once again created a very distinctive, own-visionary form of Aural Art, which cannot be labelled as 'Metal', yet with pertinent, persistent metalized basics anyway. I know you don't get much wiser by this vague description, but even listening to this band's material will not help.
An Unending Pathway brings a blend of different, though strongly-related musical genres, including an enormous variation. Each track combines different approaches and angles, and despite the varying elements, it does sound pretty cohesive. For sure it is a difficult experience, but once you get through, you want to repeat that experience (or at least a couple of compositions).
An impression: Drone / Black Metal / Punk / Death Rock / Sludge / Traditional Doom / Horror Rock / Psycho-Grind / Funeral Doom / Ambient. Ritualistic / hypnotic / psychedelic / dynamic. Traditional but timeless, noisy but melodious.
For each single track, those impressions do count. Yet each time it's packed within a specific and distinctive creation, mind-blowing and surprising by each single composition. Most of them are truly great, but a couple of them just stand out. My personal favorite is Rot, combining sabbathesque leads, massive droning Sludge-riffs, ritual percussion, excellent voices (again very varying, with initially hollow whispers and soft-grunting throats, those mesmerizing, conjuring Doom Rock chants, and a couple of blackened screams), semi-acoustic strings, and so on. But all pieces have their story to tell, but I suggest you'll find out yourself.