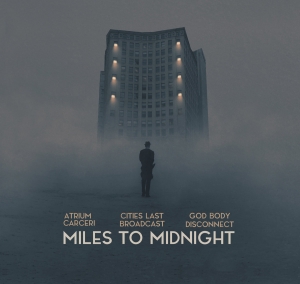 As from September 5th from last year, we could enjoy the great conceptual album called Black Corner Den, being a collaboration in between Pär Boström's Cities Last Broadcast and Simon Heath's main project Atrium Carceri. Unfortunately, I just found out that I did never publish a review for that release. Mea culpa, mea culpa, mea maxima culpa!
To condone this aberrance, I will compensate by means of this review, once again being a collaboration between higher mentioned projects from Sweden. Under the working title Miles To Midnight, both projects joined forces once again, but they invited a third artist from the U.S. of A.: Bruce Moallem aka God Body Disconnect. A threesome indeed…
These three artists created a conceptual aural adventure, like a story about a detective who was invited to return to an abandoned hotel, once closed after a murder, many years ago. Is the building still empty, with no living creatures dwelling around? Do traumas from the past disturb the poor guy's mental state of mind while entering those silent places? They are not silent anymore. Music, voices, murmuring…
Miles To Midnight indeed is like a film noir, a dark movie in the vein of Mulholland Drive and the likes. You know, those oppressive, weird, breath-taking cinematic concepts à la Lynch. As from the opening song that's an evidence. Quite immediately it does remind me of Cities Last Broadcast's spooky walls of haunting story-telling especially. Pär creates thick layers of asphyxiating claustrophobia, simple and subtle, yet pointing. No doubt that some of the mystic and mesmerizing elements from his other project Hymnambulae do come to mind as well. The feeling of discomfort gets darkened intensively by the obscure, abyssal drones courtesy of Atrium Carceri. It does veil the whole in a lightless mist, professionally able to translate the story's protagonist into disorientation. You feel it, you taste it, you just get into the detective's confused presence. God Body Disconnect strengthen the mysterious, horrific character of this sonic story with its doomed synth layers. There's also that Dark Jazz aspect, created by, for example, his jazzy drum patterns, reminding me, once again, of Angelo Badalamenti.
To add a level of creepiness, Miles To Midnight comes with some samples / field recordings / sounds, enforcing the dark-cinematic character of the album. It defines abandonment, like being left alone in space (cf. Karmiciel Wszy's Torre Bert). The atmosphere on Miles To Midnight is the expression of discomfort, fear, uncertainty, oppression and mystery, even hopelessness and despair. In a minimal manner, it reveals a lot, accompanying you through creepy, bleak dimensions, inviting you to open the door to an unknown room. What would be waiting for me? What can expect? Will I leave this strange, bewitching world ever again? And will I still be mentally sane, able to continue my past life? This album, this creation by three great artists, is not going to give you an answer. It creates the questions…
Miles To Midnight gets released, of course, via Cryo Chamber, one of the most prominent labels within the contemporary Ambient / Drone scene, and run by Simon. The latter did master the album (like about each single release on his label), and once again he took care of the artwork too (this one fitting perfectly to the album's concept, of course). And oh yes, soon I will write and upload a review for Ur Djupan Dal, another collaborative creation that involves Atrium Carceri, this time with Herbst9. Stay tuned!