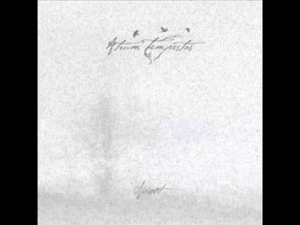 Sometimes I am ashamed (yes, even in my case it might occur) - I just mean that, apparently, Atrum Tempestas recorded and released an EP before, 2012's Ne Deus Crede, and I was not aware of it… [weep weep weep and shame shame shame]. That's a pity, and I will certainly search for that material, especially after having experienced this first full length, Néant (which actually is French for 'denying').
Atrum Tempestas hail from Finland and consist of Jarmo Kylmäaho, who's in Ars Praesagus (as Division FKV Infernali), and Juha-Matti Perttunen, known from e.g. Killmosphere, Darkcrowned, Eavral and Catamenia (especially the latter you do certainly know, I think). And now both guys show up with a full album under the Atrum Tempestas-moniker, which is a three-track recording that lasts for about half an hour.
Néant opens with Quitter Ceux Qui Étaient Déjà Partis (French for 'to leave those who already left'), which is the longest song (fourteen minutes). The track stands for a very atmospheric and depressing form of Black Metal with a funereal approach and a post-rocking execution. Despite the repetitive and long-stretched structures, there is quite some variation, and then I am referring to the different passages. However, it does sound extremely coherent, for those diverse elements are fluently woven with each other. Rather introvert passages organically interact with more desolate, aggressive and / or mesmerizing ones. And it fits, it just fits. Okay, the members' experienced curriculum vitae does help, of course, yet still… The addition of Funeral Doom-laden passages is a surplus, and knowing they do include violin lines (or at least synths that do sound alike) might be attractive; and they are attractive, those parts.
I think it is strange that 1) this is a Finnish band with French titles, 2) there's so much joy for being a mostly desolate Funeral Doom / Depressive Black Metal project, and 3) and then I am sort of returning to that French connection, that this material is strongly comparable to acts from France and Canada. The album surely does not reinvent the scene, but within its specific sub-genre, it will please the fans for sure. My personal opinion is that this project has the ability to do better than this, because I'm sure both members did not show all of their capabilities yet. But for a debut this material is highly qualitative, and therefor extremely interesting and recommendable!