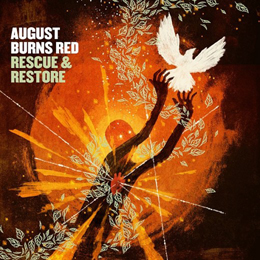 Since I am slightly allergic to the overcrowded Metalcore-scene (specifically caused by infantile and puerile nonsense), I wasn't really looking forward to review this August Burns Red album. It's a collection of regular and predictable stuff, compiled to annoy my sensitive ear drums for sure, or a sadistic outburst of this website's Big Boss to irritate me, I guess.
No, seriously, Rescue & Restore collects rather 'evident' material, yet of a very high technical order. The songs are filled with breaks, loops and tempo-changes, include both screams and grunts, melodic riffings and virtuose leads, and an extremely heavy rhythm section. A few times, however, they do throw some nice extras in the pit, such as acoustics and violin lines (listen to the nice track Treatment, for example), and this happens more than accidently, so that's a nice surprise.
The lyrical inspiration is Christian-influenced. Nothing wrong with that, as long as they do not try to overwhelm you with a fake message of (useless / false) hope, not?!...
The album gives me a double-bind feeling anyway. At the one hand you have the predictable, almost stupid oh I'm so heavy-image, I think, with those irritating would-be aggression in the performance; and at the other hand, this is one of the very few bands that succeeds to add a couple of extras, like aforementioned violins (also trumpet, harp etc.), some well-written progressive elements, or some very nice, quasi-emotional leads. Besides, the craftsmanship is of a high level (both song writing and performance prove it) and the technical skills are great.
It brings me to this conclusion: I do not need to love this stuff intensively (why should I), but I won't deny the qualities of this band. And I'm sure everyone who can appreciate the likes of Misery Signals, Darkest Hour, Between The Buried And Me, Poison The Well, Hopesfall etc., will surely appreciate this material too.