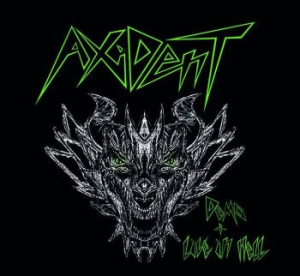 Release Date:
Sunday, September 24, 2023
Hailing from the Antwerp regions (Flanders, Belgium), Axident are a very young outfit, conceived with one goal: to thrash the masses! This band was formed in 2022, I mean, four guys came together to jam and to annoy their neighbours with some loud, sonic assaults. Eventually they had some tracks written, and a couple of live gigs strengthened their future; Slayer, Metallica, Sodom, who? Forget about them, for Axident will overwhelm the scene mercilessly.
No, seriously; the quartet evolved, step by step, gaining experience by experimenting and jamming in their rehearsal room and by playing live on stage. In March 2023, Axident recorded three tracks at the studios from the Trix community, an organisation that supports and promotes different musical genres with a very open-minded vision. That demo has now been pressed on CD, together with a semi-legendary live session.
That live-stuff has to do with Axident's performance at the Hell Diest Café in early March 2023; a gig they did with Prestige from the Land of a Thousand Lakes (aka Finland), a band that resurrected a couple of years ago after almost three decades of slumber. Seven pieces had been played that night, carefully recorded (with Gert Van Horebeek) and, eventually, mixed and mastered at Slipperhero Studio with Jannes Lemaitre (he also took care of mix and mastering for that aforementioned three-track demonstrational recording).
The crew behind Hell Diest Café started a label not that very long ago. At the one hand, they try to promote and support the (local) scene (the Benelux area, you know) by releasing great compilations under the Sounds Of Hell Series moniker. Bands and projects performing about all kinds of Rock or Metal, and same-minded genres, can be part of this gathering-of-noise. At the other hand, Sounds Of Hell releases other stuff too, not limited to the Belgian scene only. Black Metal (an open-minded description, I admit) bands Psychisme, Demenzia Mortis, Ill and H have had the opportunity to release an album via the Hell Awaits family (and if interested: all of them have been reviewed by undersigned, so just enter a keyword in the 'search'-tab, or check out on this webzine's FB-page, etc…). But the label also focuses on Thrash Metal, which resulted in the re-release of It's A Nice Day by Dead Serious.
…which easily brings me to this: Demo + Live In Hell. Indeed, this recording compiles the aforementioned triptych, simply called Demo, together with that live registration at Hell Diest Café; a second Thrash-monster kindly offered by Sounds Of Hell. The physical result is a digipack with quite 'simple' yet surely fitting cover artwork (created by bass-player Luc, by the way).
The first part, Demo, immediately shows the talented song-writing and execution by the quartet (drummer Dirk Avonts, who left in the meantime, if I am not mistaken, his brother Luc on bass (and backing vocals), vocalist / lead guitar player Ayrton Kennes, and rhythm guitarist / backing vocalist Keith Broes). The opening sequence instantly impresses with a low-tuned bass-line, militant drum-patterns, and pushing six-strings. It takes not much more than half a minute, before Panzer Attack reveals this band's real face (a horrifying, scarred phiz for sure). Yeah baby, this is Thrash Metal like it was once meant to sound like! Axident's approach is inspired by the Old School for sure. Harsh and intolerant rhythms, rough voices, anthemic backing choirs, roaring riffs, sharp-edged soloing and thunderous percussions get canalized into one overpowering Thrash orgy, shamelessly inspired by the timeless elegance of Old. Okay, it also means a certain lack of originality, yet then again: who cares? It's not necessary to reinvent hot water if the content of your bath is warm enough to get enjoyed, not?!
Two things, however, to be honest. The first is quite stupid, but the sound-quality is not that decorous. Yet then again, it isn't but a demo-session; but as a honest reviewer (and a pretty one; yet that's another discussion) I need to mention this. The second thing is the seemingly lack of variation. I do not care, yet those searching for suspense, experiment or modernistic progress - ah, never mind. Let's say that Panzer Attack, Asylum and Ancalagon The Black are timeless and somewhat refreshing Thrash beasts, offering both melancholy (the old-styled attitude, I mean) and conviction. Honest stuff it is!
The live tracks (the three compositions from the demo are part of it) prove these guys' skilled attitude too, evidently. Okay, the 'clean' vocal parts are not always that consistent (the raw voices, then again, are top-notch!), but that's nothing but fun. The four-piece works like a well-oiled machine; these four musicians do act like one organic entity. You just feel the energy they brought on stage, going well with the competent execution skills. Not too much talking, just setting the boards on fire, as if these musicians play as a ceremonious collective for decades. And actually, the sound quality is not that bad either, which uplifts the energetic atmosphere behind this live-registration.
There's an immense potential behind / around / within Axident. With a track like The Bitch Of Buchenwald, for example, the band shows a certain creativity and inventiveness, while injecting calmer, semi-acoustic passages and, at the same time, some blasting eruptions. And hey, still they stick to their old-schooled origins (no sudden progressive gimmicks or modernistic experimentation). I do not know whether they are currently preparing a studio-album or so, but it might put this name on the international map for sure! With pieces like The Bitch Of Buchenwald, Massacre, Axidental Thrash or Panzer Attack, I'm sure Axident will conquer the international scene!
https://www.helldiest.com/product-page/axident-demo-2023-live-in-hell
https://www.helldiest.com/home
https://www.facebook.com/axidentband/
https://www.concreteweb.be/reviews/dead-serious