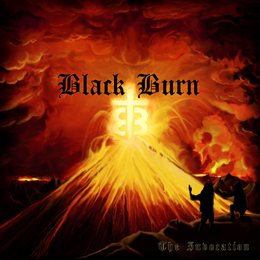 Actually this material was compiled and released a while ago, and more than this: this material was written more than thirty years ago (and initially recorded in 1985).
Black Burn is a (Cult) act from Berlin, Germany, that was formed during the very early eighties by Jörg Franke, who was active in legendary bands like Skylla or Calderone (amongst others).
There's a whole history about being copied by Helloween or Slayer, but since I do not know the essential background of these stories…
Anyway, the tracks on The Invocation were originally written, as mentioned above, about thirty years ago and recorded for demonstrational intentions (on tape), yet even in this case one cannot ignore 1) the fabulous sound and 2) the prophetic approach.
This material was 'way ahead'. Mantas, Black Sabbath, Venom, Hellhammer, Warlock, Holocaust, Warfare or Mercyful Fate were (in a wide sense: comparable) protagonists when it came to unconventional, (at that time) world-shaking / world-shocking metalized musical expressions, but so was this band.
The Invocation for sure pays tribute, finally, to a band that rocked the cradle. Back then I was just recently introduced into the magnificent worlds of Aural Extremities, but I would have been their biggest fan for sure (no, as a matter of fact it was Warlock's Dorothea Pesch that made me 'lusty' while shouting out Burning Witches! - never mind, I'm trying to make a point…); Black Burn did belong to the international top back then, and they didn't get the opportunity to show their abilities. Now they can.
I do hope this compilation is some kind of appetizer for a reunion with material in, so I do hope, the very same vein. Let it be 'dated'; I do not care. There's nothing wrong with 'staying true to' etc.
So skip the crap. If you do like any of the bands mentioned above, you are very politely requested to get your lazy ass of off the chair to hurry to the (better, specialised) store and do whatever you think you need to do.
My synthesis: masterly material!