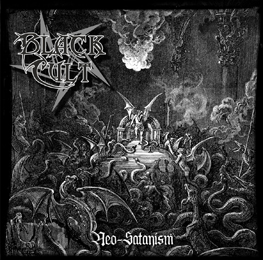 Black Cult were formed at the end of last year when two guys with quite an impressive reputation within the Croatian Extreme Metal scene decided to join forces: multi-instrumentalist Dalibor 'Insanus' Franjkic (think: Castrum, Unholy Inquisition, Ashes You Leave, Gorthaur's Wrath, Hibernum a.m.o.) and lyricist / vocalist Igor 'Morbid' (of Unholy Inquisition / Gorthaur's Wrath / Mysterium-fame). They had same-minded ideas and soon they wrote, recorded and released a first album, Neo-Satanism. In mean time, by the way, the duo is joined by three other well-known musicians from the Croatian (Black) Metal scene, who did play with them before in one or another band: Lesnik (Dark Realm, Kult Perunov, Gorthaur's Wrath, Voloch, Nekrist etc.), Azaghal (Gorthaur's Wrath, Unholy Inquisition, Hibernum), and Saathaen (Ashes You Leave, Heathen Mysticism, Castrum).
Neo-Satanism was recorded at the Dungeon Studio at the end of 2013 with Insanus taking care of mix and production (he did produce most stuff from his other bands too). The album lasts for an hour and is a symbiosis of these guys' former efforts, and more. Opening track Demon-stration immediately demon-strates (got it?) the professional qualities of Insanus and Morbid (both of them for the execution, and the first one for the song writing too). It stands for rather traditional Black Metal, the fierce and fast way, filled with brutal outbursts, melodious riffing and timeless rhythms. Especially the trans-European scene comes to mind, with a focus on the Swedish one (cf. Dark Funeral, Setherial, Marduk and the likes), but Black Cult do not sound like a cheap copy-cat. They create an own universe of neo-Satanic Aural Art, and this of the most nasty and ugly kind, with no room for rest, tranquillity, peace or forgiveness. The take-no-prisoners attitude gets strengthened by the impressive, full sound quality; this grandiose sound gets proven by a fantastic mix (every single instrument has its own place into the whole, there's room for each single contributor) and a production that spits on clinical detaillism, yet without turning into noisy pulp.
The individual songs aren't the most waw-effecting compositions I've ever experienced, but the execution, persuasion and energy are not easy to equal. I am little afraid that, because of the overload on strong releases lately, this specific album won't become the most 'popular' release in history, but since there is nothing wrong with any detail at all, I still do recommend it to the hard-core fan of the scene. You won't be disappointed, if you like your meat the bloody way (even still crawling around…).
Oh yes, I can't end this chapter without mentioning a really great cover version of Burzum's Jesus Tod. Of course the original can't be equalled in whatever (the whole pre-jail era of Burzum, with Filosofem on top, just can't be redone as majestic as etc…), but this effort is exceptionally satisfying. Truly a great thing to end this debut album with, Black Cult!