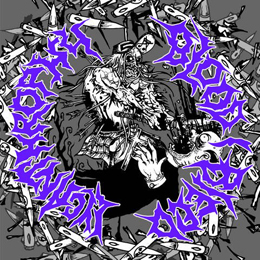 Album Title:
Blood I Bleed / Lycanthrophy
Primo, before starting: this stuff was initially released at the very end of 2012 on vinyl via France's Extreme Metal-label Bones Brigade. …now re-issued on CD via Selfmadegod. This said…
This split-album brings material from two extremely crazy acts from respectively Holland (Blood I Bleed) and Czech Republic (Lycanthrophy). And with 'crazy' I do mean 'CRAZY'!
Blood I Bleed consists of members that you might know from late-nineties lullaby-act My Mind's Mine, one of The Netherlands' most convincing Grind-acts in history (and since Holland is a country with tens of excellent Grind-hordes…). They appear with eleven 'songs', having an average duration of less than a minute (!), in the vein of, indeed, My Mind's Mine, as well as Hellnation, Consolation, Smegma, Gorerotted or S.O.B., to name but a few. Even very old Napalm Death, Carcass or Brutal Truth might come to mind, even though this stuff is nastier. It's fast, filthy and splattering, with a punkish twist and a pretty hysterical execution.
The Czech Republic is one of Mater Terra's most unique, strongest, most convincing and most persuasive countries when it comes to Grindcore. The average Grind-fan will be able to sum up tens of bands that come from this East-European country just like that. In their fifteen years of existence, Lycanthrophy released tens of splits especially (more specific: almost twenty split-releases, I think, with bands like Immured, Suffering Mind, Malignant Tumour, Gride, Human Error etc.), and now they did join forces with Dutch act Blood I Bleed. Their performance is more dense and heavy, with a Hardcore-attitude and a Power Violence-approach. It reminds me to a symbiosis of very early Napalm Death, Capitalist Casualties, Disfigured Corpse, Phobia, Regurgitate or Poppy Seed Grinder, but with the interesting surplus of adding a tiny couple of melodic and / or slow-paced and down-tuned pieces.
In a nutshell, I think this release is destined for the 'true' Grind-freak only. It hasn't the 'intelligence' of Nasum, Exhumed or Antigama, but the (sick) fan of punkish Grind-Gore will come over and over again…