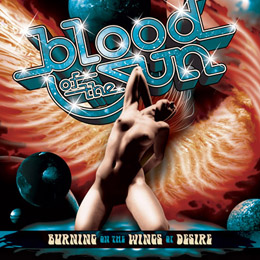 Album Title:
Burning On the Wings of Desire
Release Date:
Friday, December 14, 2012
For those of you that don't have a clue, BOTS is made up of Henry Vazquez from Saint Vitus, Dave Gryder from Storm at Sunrise, Tony Reed from Mos Generator, John O' Daniel and Rusty Burns from southern legend Point Blank. They're back with a new record deal (on Listenable Records) and a new album, Burning On the Wings of Desire, that shows there has been no loss of power or southern rock attitude over the years.
It paid off in one hell of a southern- boogie- groovefest- stomper of an album. Songs like "Can't stop my heart" and "Rock your station" have the Alabama rock stomp built right in and sound kind of like a modern day Allman Bros. At other times, Blood of the Sun channels the ghosts of '70s organ hard rock on such tracks like "Let it roll", "Brings me down" and "Good and evil" with Wino at the mic.  John's voice is great, not too rough, strong enough so he's heard over the thundering drums, and the top-notch guitar work and blazing Hammond work, but not all sugary sweet either. This band's natural energy and chemistry are apparent from one tune to the next.
If you're unfamiliar with this band, this isn't a bad place to start. Fans, of course, will connect with this CD instantly.