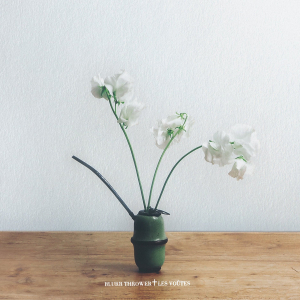 Statement (as mentioned in my review for this French project's former album as well): "taking shape from personal neurosis, fears and anxiety, Blurr Thrower aims to exhume the secret ether from the meandering of the Human soul". Don't come telling me, afterwards, that I did not warn you…
Sometimes such 'introduction' on a biography is superficial and superfluous. But when I experienced Blurr Thrower's debut Les Avatars Du Vide ('the avatars of the void'), I was convinced immediately. This one-(wo)man project indeed gets inspired by his / her distorted psyche, fed by unrest, anguish, neurosis and psychosis. And quite the same goes for this sophomore release, called Les Voûtes (French for 'the vaults'). From sonic point of view, Blurr Thrower seeks inspiration within the 'Cascadian' scene (they mention Weakling, Fell Voices, Ash Borer, Time Lurker and Paramnesia; some of them also on Les Acteurs De L'Ombre Productions' roster, and reviewed humbly by yours, undersigned).
This second album consists of three lengthy (nine to twelve minutes) and one, eh, 'normal-sized' composition, clocking about forty minutes in its totality. The recording results were mastered by Jack Shirley, known from his assistance with huge names, such as Amenra, Deafheaven, Ash Borer, Wiegedood, Time Lurker and many, many more. Once again, Les Acteurs De L'Ombre Productions take care of the release via digital sources, as well as physically, being a compact disc edition (three-folded digipack), and one on vinyl (12", available in two colors). And very remarkable, yet somehow intriguing too, is the cover artwork by multi-disciplinary artist Came Roy De Rat. Another interesting thing is the assistance of no one else but Gaetan Juif, the mastermind behind truly fine projects like Cepheide, Rance, Baume or Scaphandre (also reviewed more than once by yours truly; enter the project's name in the 'search'-tab in case of interest).
The collaboration of Blurr Thrower's happy songs with the sweet chants of Gaetan surely works. No, seriously, Gaetan's raspy and harrowing voice has something wretched, tortured, even hysterical, which sort of characterizes his other (solo) outfits too. And in a mostly organic way, this fits somehow shamelessly to the unhappy, crepuscular stuff courtesy of Blurr Thrower. The material is incredibly rough and intense, and a comparison with the mighty scenes from France and Canada surely works.
The overall tempo is fast, sometimes even of the devastating kind, but the huge variation (and then I am referring to the multiple changes in tempo or general song structure) drenches the whole approach in an acceptable result. The drum patterns especially add that overpowering attitude, caused by rabid double bass drums or artillery-alike salvos, harsh like a comet penetrating our planet's stratosphere. But it's great to notice that the drums do bring almost melodic fragments as well (they do not just infuriate in rage). In a piece like Fanes, or the opening sequence of Amnos (Amnos naturally follows Fanes, like twins), that drum-work (programming?) works intoxicating and mesmerizing. Yet also the few doomier chapters are accompanied by ingenious drum rhythms.
But that's just one aspect. The variation finds its origin as well in the melodies and the song structures. Remarkable is the string-work; the lead guitars balance in between dissonance and melody, in between fury and melancholy, in between hypnosis and hysteria. The sound of the total string section is unpolished and ragged, resulting is an overdose of mesmerizing beauty. Whether a fragment is based on atmospheric tremolo leads, then again brutish iniquity, the production process (read: sound quality) offers a deep-going, almost perverted, magnificence, which completely, profoundly fits to the whole concept.
Highly remarkable once more (cf. the former recording) are the many cinematic and dreamlike passages, the many down-earthed, bleak soundwaves, creating a grim, maybe even lackadaisical and suffocating, yet also dim and spiritual ambience. These droning excerpts strengthen the occult, ritualistic atmosphere, as well as the enthralling majesty.
Just like 2019's Les Avatars Du Vide, 'j'adore' Les Voûtes, but actually it is even stronger, more professional somehow. A first aspect is the vocal contribution. I have, to be honest, no idea who did the vocals on the former album. They were great, let's make sure that I am not going to whine about them. But the assistance of Gaetan, well, his vocal timbre capacitates Blurr Thrower's message of negativity, isolationism and misanthropy for sure. A second element I just need to add is the improved sound quality. The mix, for example, brings a very mature balance in between all individual elements, whereby the total experience sounds more solid and determined.
https://ladlo.bandcamp.com/album/les-vo-tes
https://lesacteursdelombre.net/product-category/bands/blurr-thrower/
https://blurrthrower.bandcamp.com/album/les-vo-tes