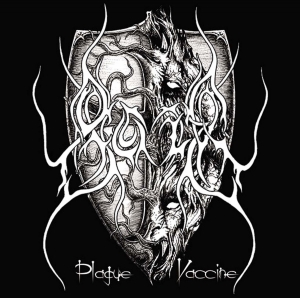 Bolg started their activities at the beginning of this century. Via the American label Acclaim Records (they were quite active in the first decade of this century, then fading away in silence, yet back to business since a couple of years; this recording was their first release, by the way), Bolg released a split with another Bulgarian act, Exile (they reformed, but I'm not sure whether they're still active as we speak). Then, however, everything turned into silence. But I do not think they actually broke up, and probably there were some live activities in their home country (and further), but nothing really happened in the studio.
Enter 2017. Two of the founding members, Krum Kostov and Kamael, record and release a demonstrational recording, with a renewed line-up, which could have been an omen for an upcoming album. And indeed, that was the case. Bolg recorded some new songs, resulting in a first official full-length studio album, which is entitled Plague Vaccine. It was self-released at the very end of last year, with assistance for the tape edition by Serpent Eve Records. The band also signed to Hass Weg Productions, a Black Metal label pur sang, for the release of this stuff on CD. The latter was printed on 500 copies, including a four-page booklet, which does include some of the lyrics (which are, by the way, in both English as the band's mother tongue, Bulgarian).
Plague Vaccine opens with an untitled intro – not the 'usual' symphonic or ominous horror soundscape, yet a guitar-oriented one that grows, and that counts like a correct introduction to the rest of the album. And 'the rest of the album', well, that's some smelly stench of blackened majesty! And I won't go too fast, but the outro (Metempsychosis) is at least such epic and mystic killer as the intro, for what it's worth, also constructed with assistance of nobody else but Monsieur Déhà…
Bolg (which means 'wolf', by the way) perform that kind of Black Metal that finds a perfected balance in between melody and aggression, in between epic and thrashing, in between tradition and even more tradition. In the vein of the glorious Nineties, this material is based on epic-melodic riffs and brutal passages of rhythmic violence. It sounds somewhat victorious for sure, with a convinced attitude, that taking-no-prisoners attitude, yet spiced with that heathen thing that characterised quite some bands from European soil (roughly said: what about Marduk-meet-Gorgoroth-meet-Enthroned?). Especially the more epic pieces bring back the glory once executed two – three decades ago. It goes for lead parts and solos, as well as the overall structural melodies. This gets heavily – and I mean heavily! – supported by a devastating rhythm section, consisting of prominent bass lines, artillery drums and pushing rhythm guitars. Thanks to the grandiose sound, all these elements are represented in a fine equilibrium. On top of it, you cannot dislike the sulphur-spitting throat of Krum: soar, skull-penetrating and filled with acid and venom.
In distinction to quite some other bands, Bolg do not just play their compositions. They perform like crafted artists, with talented and skilled details within each single song. It's not that this band does invent hot water, but they have that little more, something that typifies their self-faced (scarred-faced) creativity. It's the subtlety of those distinctive aspects that characterises this band. Without exception, every single piece is like a monument, yet without exaggeration or some pathetic would-be attitude.
Another cool detail is the enormous energy going on. Whether a chapter is fast or slow (like that fabulous Doom-epic Pokrov), melodic or f*cked-up; Plague Vaccine constantly pushes, bringing a tsunami of black-metalized ear-terror. Or is it ear-candy? Poisonous ear-candy? Virginal eardrum-rape? Whatever, it's a pleasure to get sonically abused!...
In conclusion I can recommend this product doubtlessly. As said, don't expect something that renews the scene. Don't go searching for progressive structures whatsoever. But all horns up, for Plague Vaccine is a collection of killers – no fillers!
PS: the CD includes a bonus track, which was recorded in 2010 in another studio, but which never saw the light (or better: unlight) – until now. Beyond The Visions Of Death ends three terrifying quarters of an hour in an orgiastic apotheosis, blasting and audacious! Go with a bang!