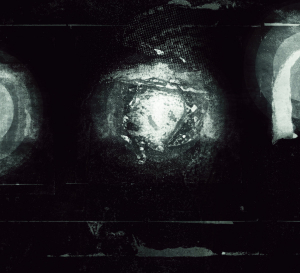 The current Ambient scene cannot be seen without the influence of the Boström siblings. Pär Boström is a name you might recognize from his involvement with e.g. Aindulmedir, Kammarheit, Altarmang or Cities Last Broadcast. With his talented sister Åsa, he's active as well under the moniker of Hymnambulae, and these beautiful people are the main forces behind Hypnagoga Press too. But the both of them also act as Bonini Bulga, another project dwelling in ambient spheres, yet once again differing from all other projects, with a very specific, own-faced approach and sound.
Bonini Bulga's former effort, Sealed, was a remarkable piece of horrific, claustrophobic Ambient, distinctive from all other things both members are involved with, yet then again sharing a very recognizable sound too. It took a long time, but finally Åsa and Pär come up with a sophomore Bonini Bulga release, which was eventually mastered by some Frederic Arbour (haha, the one and only mastermind behind the law of cyclic ambience). Once again, it gets released via their own Hypnagoga Press label, available via the contemporary digital sources as well as on compact disc (ten-panel cross-folded digipack) and on tape. And I have no idea this time who is behind the (cover) artwork, but it is truly overwhelming and captivating (for what it's worth).
Well, keep in mind that night swallowed the day, as a star led the vessel through the wilderness. This might go up to your trusted place of living, so beware… This second Bonini Bulga adventure is divided into eight different yet deeply cohesive chapters, clocking about forty-six minutes. They come with a sound / production that is so intensively overwhelming, lacking any noisy failure, but ignoring any artificial attitude too. That is just a wonderful thing in order to express the inherent obscurity and melancholy that might be hidden behind, or into, the concept.
What Blood Name brings – actually I think that this recording's title is somehow superior in its simplicity (!) – is an extremely heavy, down-tuned, darkened, horrific and oppressive form of Dark Drone, Ritual Ambient and Ritual Dark Drone Ambient (what?), cinematic somehow (for whatever this definition might be referring to), and absolutely mesmerizing and bewitching. And actually, the subtle yet inherent variation, even though some listens might seem necessary, show a multiple-faced approach that trespasses the limitations of the scene.
Expect quite some minimalistic executed fragments at the one hand. Because of their repetitive yet intoxicating structure, these compositions, like the title track, to give an example, are like mesmerizing, yet also heavy-weighted impulsive happenings to cope with. Guiding the listener to dungeons deep, accompanying the listener to dimensions so dark that they haven't been explored yet; one cannot resist the relish to fade away into these spheres of moony dimensions. It's almost sacral, celestial, or profane (?) in atmosphere. Pole Star too is such example that just creates a claustrophobic web of sonic magic, where no escape seems achievable. Long-stretched soundwaves permanently daze and amaze.
Some 'songs' then again are rather ritualistic in nature. Take Triangular Name with its semi-meditative character, shaping a vision of unphysical possibilities, of untouchable experiences. The repetitive sequences strengthen the intoxicating effect of this listening experience for sure. Opener Night Swallowed The Day too has that semi-orbital heart, including extremely asphyxiating chapters of abyssal nothingness and abyssal oblivion. Waw, those haunting melodies in combination with those eerie voices (yeah, I did hear them – or are they twisting my subconsciousness???), that result surely overwhelms and captivates. And in pieces like Bow Before The Door, the industrial roots crawl out of their muddy underground, filling this sonic experience with dust and ashes.
Another approach is the bleak, 'harsh' one, with nightly visions floating by. Such Is The Holy, for example, combines eerie, ritual passages with noise-laden elements, balancing in between somehow levitating moments of illumination with industrialized drones. This is a soundtrack for breath-taking horror, for sadistically terrifying tension and suspense. The heavy drones of Remember The Bones delve even deeper into the muddy and swampy grounds, exploring dimensions of trans-astral (yeah, whatever) exploration. Seriously, this electronic approach deeply fits to the whole conceptual entirety for sure.
But actually, all these ostensible things exhibit one huge cohesive story, one firm coherent adventuresome entirety, with a continuous mingle of repetitive, cinematic, eerie, ritual, astral and droning elements, courtesy of a low-profiled yet ingenious duo from Swedish soil. Blood Name turns out to be a dark aural adventure, like a soundtrack for the doomed. From an objective approach, it might be labeled as a form of, well, mysterious Dark Ambient / Drone effort, penetrated with some elements of Dungeon Synth at the one hand, and Dark Industrial at the other, but one thing is a certainty: with Blood Name, Åsa and Pär Boström did create a huge and monumental album under their Bonini Bulga moniker. Recommended!!!
https://boninibulga.bandcamp.com/album/blood-name
https://www.concreteweb.be/reviews/hymnambulae-0
https://www.concreteweb.be/reviews/hymnambulae
https://www.concreteweb.be/reviews/aindulmedir
https://hypnagogapress.bandcamp.com/