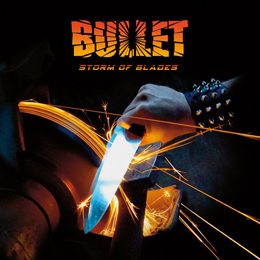 Release Date:
Friday, September 5, 2014
Line up:
Hell Hofer | Vocals
Hampus Klang | Lead guitar
Alexander Lyrbo  | Lead guitar
Adam Hector | Bass
Gustav Hjortsjö | Drums
The Swedish heavy metal quintet Bullet has already made the breakthrough in their home country. Despite five very respectable to strong albums and relentless touring the old-school metal outlet is still waiting on making it big on a worldwide scale. Now they present their sixth full-length album 'Storm Of Blades'.
After the short hymn-like intro 'Uprising' the album starts with the title track 'Storm Of Blades' . A fast double-axe attack riff breaks loose, the drums begin to kick in hard and the vocals set in with a scream. Is this the early 80ies? No, it isn't. This is Bullet in 2014. The band has never made a secret out of that fact that their biggest influences are Accept and AC/DC. The title track of the album makes clear that this hasn't changed. This time around Bullet also add a good dose of Judas Priest to the mix. 'Hawk Eyes' and 'This One's For You' are good examples of that and come with riffs that Priest would have been proud of releasing on their current album. Bullet frontman Hell Hofer switches from his typical Dirkschneider/Johnson-voice to a falsetto tone showing more variety than on previous albums. When the guitar duo' Hampus Klang' and 'Alexander Lybro' (who makes his debut for Bullet on a studio recording) enter into a Maiden-like twin-axe solo, old-school metal fans must be in heaven. Don't miss out on 'Hammer Down' and 'Run With The Hunted' sheer classic songs with AC/DC and JUDAS PRIEST mix that create the unique sound of BULLET.
Bullet do all this without just copying from their idols. They combine old-school metal elements while adding their own spin to it. The musicianship is without a flaw. New guitarist' Alexander Lybro' makes a strong debut, complementing 'Hampus Klang', who is a guitar-hero in his own right. The production is modern, heavy and tight. Bullet and their co-producer Markus 'Mangan' Sedenberg have done a fine job. The album is not overproduced and has a raw feeling that goes more back to Bullet's early days.
Bullet offer their fans an album that comes without any disappointments. All songs have their own little treasure to discover. Some of the highlights are 'Riding High' with its melodic riff, the straight heavy rocker 'Hammer Down', which should be a great live hymn, and the groovy 'Crossfire', that starts with another twin-guitar part and shows that Bullet can also turn down the volume just to get back up there again.
Bullet release an exceptional album that shows that old-school metal is still relevant in 2014. The album features a live, garage-like sound which makes it very real. It has all the ingredients a classic metal album should have: neck-breaking riffs, twin guitars, rough vocals and a lot of well-structured and catchy songs. The only drawback is that the album is only 35 minutes long which leaves you wanting more once you are through it. Maybe that is what the band is aiming for.