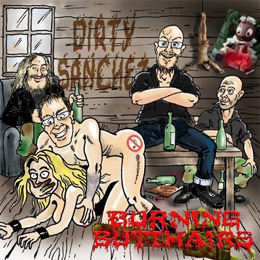 What a band-name this is… Burning Butthairs, do you smell it? And then, the lay-out of the booklet (full of pictures, some even worse than others), the cover painting, the song titles (Die Axt In Dein Gesicht, The Milwaukee Cannibal, Butchered Raped Tochter, The Vampire Of Hannover, The Meat Eater etc.), does it give you a clue? Pop Music? Electro-Rock? Nu Metal? Vega New Beat? Grind-f*cking-core? Indeed, we have a winner, haven't we!
This German quartet (Ötze, Marlis, Sascha and Stephan) recorded sixteen sweet elegies in order to sicken your brain – or is it the ideal X-mas present for your parents in law? Anyway, Dirty Sanchez lasts for forty minutes and brings that kind of Grindcore that is sick, gore and perverse. But haven't we heard it before, often more enthralling? I think so. Dirty Sanchez is a collection of fierce, deadly, sick and sadistic pieces of utter filth, but I've seen it dirtier – read: more convincing and 'true'. Okay, it's fun. But in Holland, the U.S. of A. or the Czech Republic we have some hundreds of comparable bands that are at least as fun(ny). The deadly tracks aren't necessarily the fastest, and the sound is not beneath acceptance, but it's the song writing, and the actual performance, that does not convince me. Pretty infantile…
I guess only those who want to die for the likes of Mortician, Impetigo, Exhumed, Splatterhouse, Haemorrhage, Gorerotted, Cretin, Lividity, Patologicum or Machetazo will be pleased with this stuff. Otherwise: skip it.