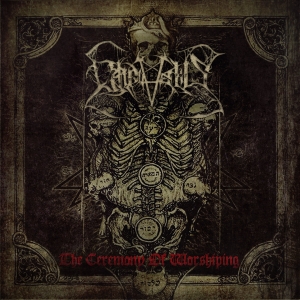 Album Title:
The Ceremony Of Worshipping
Cadaveris are a band from the centre of the Russian Federation, and it is one that seems to exist for quite some time. Despite being formed in 2010, there were no official releases – until now.
Three members (the line-up did undergo some changes) recorded the official debut full length, called The Ceremony Of Worshipping, and the compact disc gets released via Heretic Records in an edition of 500 copies. The official distribution gets taken care of by Satanath Records, hailing from the very same city as Heretic Records, by the way. The Ceremony Of Worshipping comes with an eight-page booklet, which includes some fine artwork and some lyrics, and the seven tracks last for half an hour.
The Ceremony Of Worshipping opens with Nonexistence, starting like a traditional instrumental introduction based on semi-acoustic guitars. But after almost two minutes, things turn little nastier indeed. Militant, vengeful Metal takes over the epic atmosphere of the first minutes, leaving no room for peace or rest. I adore the martial drum patterns especially, though the whole interplay is great.
And as from the second track, Worship To Qayin, Cadaveris show their true face. And it's an ugly face, full of scars, sharpened teeth and blood-soaked eyes… The Black Metal is melodic in essence, yet quite chaotic too, which is a fine combination. The heavy rhythm section supports the melodies with pride and conviction, and especially the hammering drums are revealing a hint of morbidity. However, rhythm guitars and bass lines too are fine to enjoy. An important element is the thought-out use of fiery leading guitar parts the whole of the time, without dematuring into a guitar-based album. Solos and tremolo leads nicely interact with the epic background melodies and pushing rhythm section, and that is one of the main reasons why this album remains attractive the whole of the time. But the variation too should do with the listener's fascination. The main structures are permanently interacting, and the very same goes for the speed. Okay, the focus lies on high-speed energy for sure, but via breaks you'll constantly confronted with blasting eruptions, and some slower passages too. The rich, varied vocals strengthen a certain feeling of occultism, and I am pretty sure that this is meant to be that way. The few weird intermezzos / outros confirm my statement.
One point of criticism, however. I am not totally convinced of the sound quality. There is nothing wrong with the mutual relationship and presented proportion of all members / instruments. But the production itself is messy, creating a sound inferior to the result. But hey, it's not dramatic, yet important to take into account.