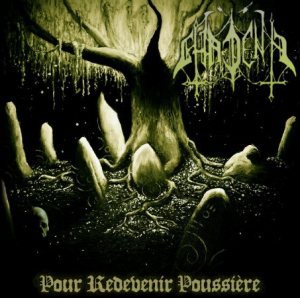 Release Date:
Tuesday, November 5, 2019
[since the scroll-down menu does not go any farther than 2017, you can't see the actual release date, but this album saw the light, sorry, unlight, in 2012]
I have no idea whether Chadenn are still active, or whether they did split up. In each case, they did not release anything anymore since 2012 – and it's that release that this review will deal with. Why reviewing such an old recording? Well, it is never too late to promote or support older stuff, in honour to the band or, like in this case, to the label involved.
The label, well, that's Hass Weg Productions, which I do appreciate enormously. It has to do with the very sympathetic guy behind the label, Monsieur R., yet also with the fantastic roster. I did quite some reviews in the past (enter the label's name in 'search' and you'll find some hands full of [excellently written] reviews), amongst which one for the debut full length of France's Chadenn. To make it easier for you: you can find the link for this specific release below.
So, after that first album, Aux Portes De La Mort (meaning: at the portals of death), which was released in 2010 via Hass Weg Productions, there was this second one, and then… silence. But it is worth paying attention, for this sophomore recording is stronger than the debut, even though it does follow the same direction. Pour Redevenir Poussière (which means to become dust again) was recorded in March 2012 by vocalist Yell, drummer Odarec, bass player Thurisaz and guitarist Funeste [Odarec and Yell were in Moonreich too at that very same period], and the material was recorded and mixed by some Baldur at the Eternal Light Studio. It was released on compact disc in a 'regular' or 'jewel case' edition (in a pressing of 1,000 copies). It exists with inclusion of a very sober eight-page booklet that has the French lyrics and very intriguing sepia-coloured cover artwork.
The nine tracks (the CD has an additional re-mixed bonus track) last for more than fifty minutes. The journey opens with Sic Luceat Lux, which starts with an acoustic introduction. But soon Chadenn show their teeth. And believe me: there are still drops of blood and pieces of torn meat visible…
As said, Pour Redevenir Poussière continues the path of Aux Portes De La Mort, which means that the album stands for a rather 'orthodox' form of timeless Black Metal. But I also mentioned a certain, and important, progression. Well, to be honest, I thought the debut was somewhat 'simplistic' in essence. I did surely not dislike that one, but I did miss something, quite something. Well, this time, Chadenn injected the whole thing with an increased richness in sound and execution. It sounds 'fuller', more powerful, and for sure much more convinced.
At the one hand, the song writing has improved enormously. There is more variation, to start with, in both speed and melody. The better part still balances in between a fast and an ultra-fast tempo, blasting eruptions included. The transition in between speeds, the tempo-changes, sound pretty organic, even within the sudden and abrupt breaks. And once in a while, Chadenn try to retain the listener's attention with some slower excerpts. Still natural in nature, that diversification in tempo is necessary, yet also successful, seen the length of this release.
The song writing did improve too, with a more professional balance in between technical skills and final execution. The songs an sich are written from a persuasive point of view, that's for sure, with a focus on crafted play and bold, hazardous technics. A nice aspect is that the melodious approach still demonstrates a cohesive partnership with harshness and brutality. There are quite some guitar leads that form the spine of many chapters, strengthened by a massive rhythm section and truly raw, barb-wired vocals. Remarkable too are the (few) semi high-tech moments, the few semi-experimental elements (guitar-wise), adding a touch of modernism on top of the traditional basics.
If there's one thing I still crave for improvement, that might be the production. The sound quality is, I think, little too sharp and strident, especially the tremolo leads and some drum salvos. The bass, at the other hand, often sounds like being recorded in a tin container. And more than once, the mix results in a chaotic mishmash. But it does not really bother me that much, for some excerpts, like some guitar-based intermezzos, bring forth the ideal rough-edged sound.
Oh yes, the reinterpretation of Funeste Passage from the debut album (actually it was released before on the 2008 demo), well, it says it all. It shows how much this band did grow in between two recording sessions. Nice…
If you like it harsh, merciless, diabolical and overwhelming, yet still melodious and technically high-skilled, I can surely recommend this second Chadenn album! In an open-minded vision, I would recommend it if you can appreciate sweet combos like Marduk, Behexen, Enthroned, Dark Funeral and / or Setherial; can you cope with it?...
Au pied de l'arbre nait la mère qui enfante le fils pour tuer le père et redevenir poussière…
https://hasswegproductions.bandcamp.com/album/chadenn-pour-redevenir-poussi-re
https://hassweg-prod.com/eshop/en/hass-weg-releases/2144-chadenn-pour-redevenir-poussiere.html
https://www.concreteweb.be/reviews/chadenn