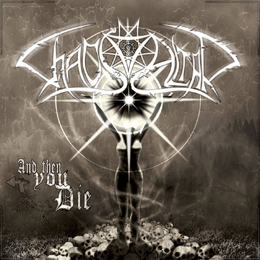 Release Date:
Friday, February 27, 2015
Chaos Altar are a one-man project by a guy called Executor, formed after the demise of Nir'um'Tuk. Since I never heard the sole EP by Nir'um'Tuk, I can't compare both projects, but I am pretty sure Chaos Altar can be called the logical successor. As a matter of fact, the lyrics have been written once again by Asphodel, who did the very same for the Nir'um'Tuk-EP.
And Then You Die is the first demonstrational recording under the Chaos Altar moniker, and it was self-released at the very end of 2014, and pressed on CD a couple of months later by UK-based top-label Cold Raw Records in an extremely limited edition (of 122 copies). Yoann 'Executor' Mantignon did produce the stuff himself, and mix + mastering were done by Fabien Longeot, whose name you might recognize from the likes of Mourning Dawn or Ad Vitam Aeternam. Fabien, by the way, also guests with some guitar solos.
And Then You Die (I know, it must probably be the most original title ever…) wasn't meant to add a revolutionary aspect to the existing scene, but the main purpose is 'to create a cold and chaotic atmosphere'. But, I think that opener You Spill Your Hate, to start with, does come with revolutionary distinctive elements: initially, for a couple of minutes, it is a very obscure and highly melodic Nordic-styled piece (epic and low-tuned, melodious and fast-rhythmic) with vocal samples, with the last minute being accompanied by piano, violins, cello, war drums and synths. Next piece is the title track, which stands for some unholy mixture of very old styled Black and thrash Metal. It's like the evil sound of the eighties, mingled with early nineties details (cf. the so-called Second Wave-tradition), once again nicely balancing in between harsh, pounding aggression and melodic-epic craftsmanship. A surplus is that subtly woven obscure sound, kindly offered by hidden layers of organic keyboards. Also the solo towards the end of this track is spine-chilling! Rotten Inside, the most lengthy piece (7:32), initially has something 'Post'-oriented, especially caused by the industrialized guitar sound. Early Thorns and Zyklon come to mind. This piece is little more 'experimental', with rather bizarre bass lines, sudden changes in tempo (including weird breaks), and some mostly weird vocals. Dissonance of a structurally correct interpretation, you might define it this way… Here too some subtle yet undeniable important, colorful synth / violin lines add that something distinctive, uplifting, intriguing. Primordial Chaos That Once Was is the most warlike track on And Then You Die, and the most victorious (cf. the Norwegian Viking-Black scene of Old Times…), especially within the faster parts. The EP ends with a surprising cover song: Troops Of Doom by Sepultura. It is truly remarkable how Chaos Altar are able to reinterpret this song, and give an own mark to it. It might be evident, and it might speak for itself that this composition is the most Thrash-edged on the recording.
Conclusion: Chaos Altar are a project I hope to hear more from soon. This is only a first march towards battlefield; victory is near!